by Joey Chenoweth | Coolidge Examiner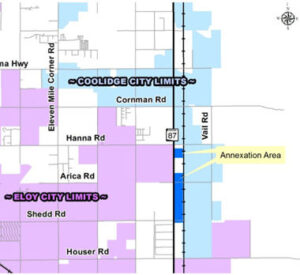 The Coolidge City Council met in executive session before its regular meeting on Oct. 12 to get brought up to date on pending litigation from the City of Eloy concerning its recent annexation.
Because it was an executive session, nobody in the meeting is allowed to comment on what was said behind closed doors, but City Attorney Denis Fitzgibbons said afterward that the intention of the meeting was to share information and educate the new members of the council on how the city handles lawsuits. Nothing discussed in the meeting involved official documents or anything that would come up for a vote at a later meeting, he said.
Eloy filed a complaint for special action with the Pinal County Superior Court on Sept. 16 alleging that Coolidge did not follow Arizona revised statutes when it came to the "Frontage 87" annexation the council approved on Aug. 24. The annexation includes 245 acres of land along Highway 87 near the correctional facilities in Eloy.