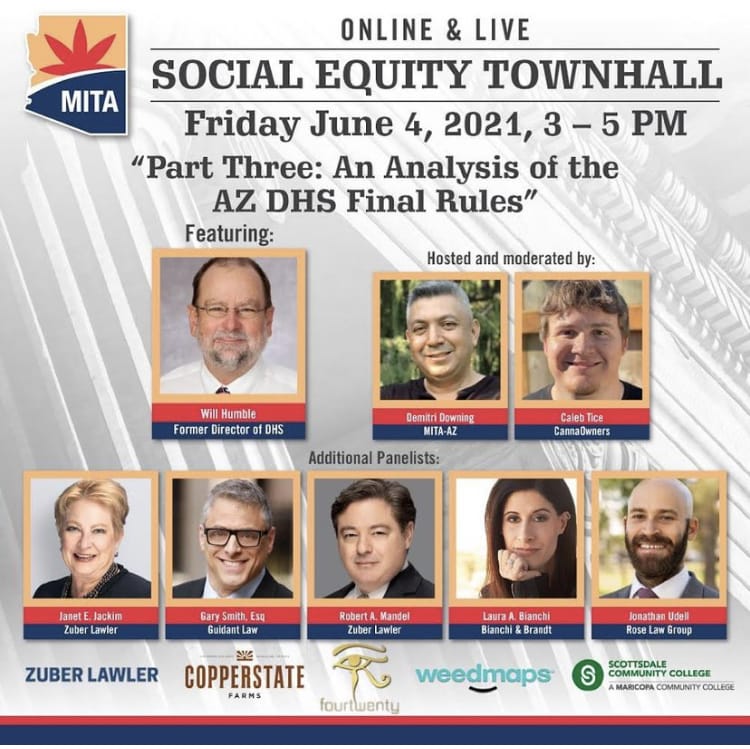 Industry experts will be analyzing these rules at the @foundrephx on June 23rd, but before that…@mitaarizona gathers industry experts LIVE this Friday to discuss! Former @azdhs Director, #WillHumble, will share with our community his unique insight into these rules. REGISTER HERE.
In an effort to keep the community & those interested in social equity best informed, we are gathering our team of experts to go Live Friday, June 4th from 3:00 PM – 5:00 PM UTC.
Arizona's New Adult Use Law- Proposition 207 adopted a Social Equity Ownership Program (SEOP), which is designed to issue licenses to entities whose owners are "from communities disproportionately impacted by the enforcement of previous marijuana laws."
Will Humble, former DHS director and designer of MMJ program with Demitri Downing, Executive Director of (MITA AZ) developed a curriculum to educate social equity applicants about how the current Arizona Cannabis industry works. The teachings will encompass all aspects of the cannabis industry.
Program modules will be done online and begin running weekly. They will be well publicized throughout the state of Arizona. Program will continue until the social equity licenses are issued. Program will begin with cannabis 101 and end with application training and will be offered at no cost to prospective applicants.
The modules will be live and recorded virtual sessions. We will showcase industry experts, both local and national to speak throughout the course. All modules will be available for viewing online as people sign up even into March of 2021.
Participants are able to sign up at anytime and allowed to view prior recordings. We will require all attendees to provide us with their personal and business information upon registering.