Republican Rep. Mark Finchem is accusing almost all of the Democrats at the state Legislature of conspiring against him. /Source: 3TV/CBS 5
WASHINGTON (CNN) — A normally orderly school board meeting in this small city began with an unusual warning that there should be no clapping or shouting. But things soon became so contentious that the meeting was brought to a halt for a 10-minute cooling-off period.
The tension had been building for weeks. Hours before the meeting, a group of students, retired teachers, and parents held a small demonstration at the high school, expressing their discontent with just one person: school board member Amy Facchinello.
The outspoken lawmaker from southern Arizona made his comments during an appearance on the "War Room."
Depending on who you ask, she's either a QAnon sympathizer who poses a threat to the truth, and therefore to the education of the town's children, or a hard-working woman being attacked for her partisan views.
Students and protestors opposing Facchinello are asking her to step down after then-high school senior Lucas Hartwell found social media posts alluding to QAnon on her Twitter account dating back to 2017, when the QAnon conspiracy theory first entered the American lexicon.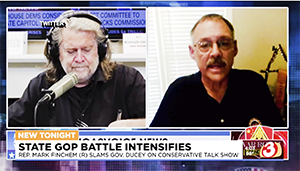 "It's a platform that's based on everything a school district should stand against, everything education should stand against," said Hartwell. "And that's the most upsetting part to me, that somebody who has the future of children believes these things that are so outlandish and so harmful to not just our community, not just our children, but to our nation and the world."
Hartwell showed CNN copies of Twitter posts from Facchinello's account, one saying, "Q ANON CONFIRMED BY TRUMP." Another post about conservatives' accounts being deleted with an image of a fiery "Q" says, "We the people are pissed off."
There are a variety of retweets and likes of posts related to the QAnon movement, which is known for its outlandish conspiracy theories.