Jay and Jessica Santos have coached gymnastics at Arizona State since 2017. Jessica was an assistant until June, when she was promoted to co-head coach. Photo by Harrison Zhang/Cronkite News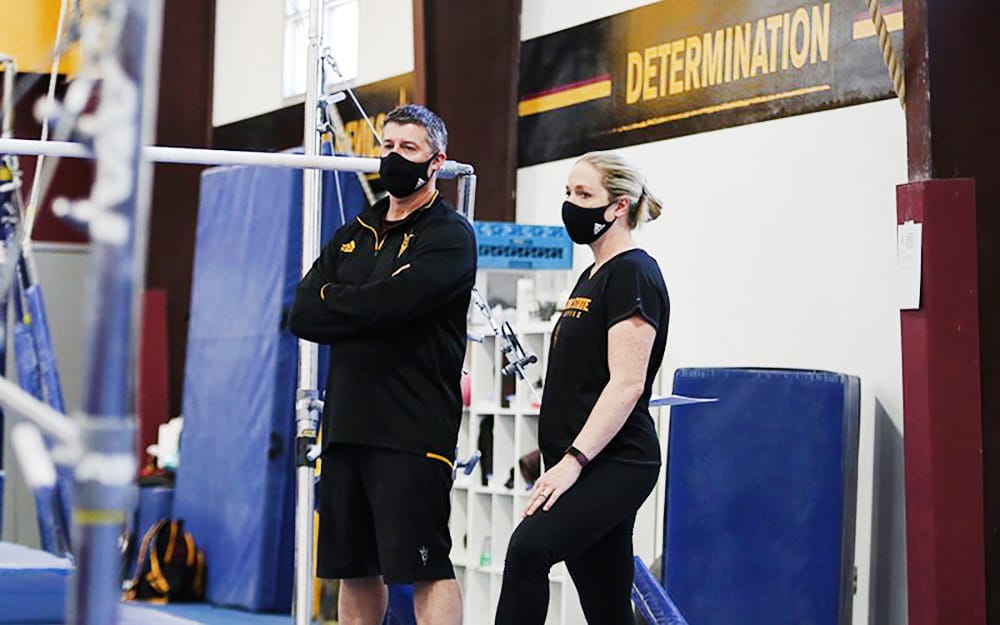 By Gabrielle Ducharme/Cronkite News
Let It Burn.
When someone walks into their practice facility, even in the middle of the offseason, Pitbull's "Fireball" is often blasting while Arizona State gymnasts run through rope climbing warm-ups and balance beam routines.
After Jessica Santos was promoted to co-head coach in June 2021, she and husband/co-head coach Jay Santos came up with the mantra Let It Burn.
It is a mantra that represents a new chapter in their coaching careers, and motivates a veteran team hungry to advance to the NCAA Women's Gymnastics Championships.
"It's just keeping that fire going," Jessica said. "Even right now… you're not thinking about the season and you forgot about last year, just keeping it going so that we're motivated."
They always planned on running a program together as wife and husband, co-head coaches, the yin to each other's yang. Jessica and Jay Santos' journey formed the foundation for them to take over the Sun Devils gymnastics program.
From 2017-21, Jay served as head coach, while Jessica was a top assistant. In that four year span, the Santoses transformed ASU gymnastics into a perennial powerhouse. In 2016 – the year before the duo took over – Arizona State went 0-8. By 2021, Sun Devil Gym went 5-5 (4-1 at home), and came within a point and a half of qualifying for the NCAA gymnastics championships.
Two teams qualified from the NCAA Salt Lake Regional Finals. Though ASU finished th
ird and fell short of nationals, the Sun Devils still finished with their highest postseason score in program history.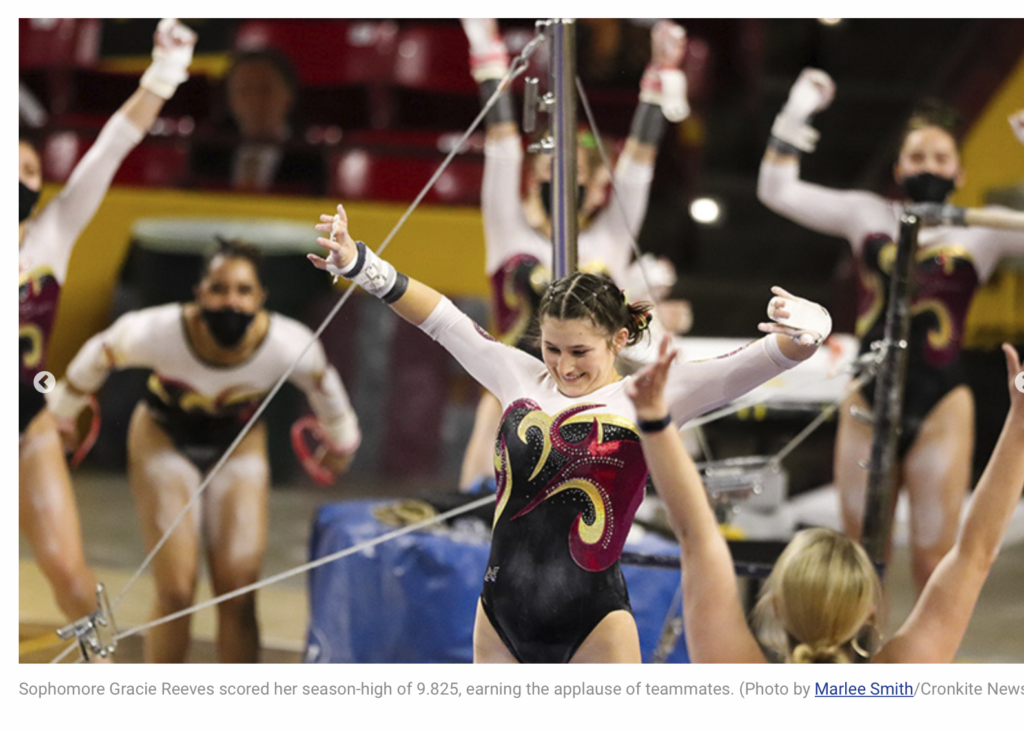 ASU gymnastics' practices are often high energy as veteran leadership translates to encouragement. (Photo by Harrison Zhang/Cronkite News)
A team that once sat at the bottom of the standings now has expectations to compete for a national title. The coaching promotion is another step as the Santoses etch their legacies in the sport.
"I definitely wanted to be a head coach ever since I started in the sport," Jessica said. "It was just kind of the next step in our journey of being here and trying to do it together."
Before taking over ASU gymnastics, the Santoses coached at Eastern Michigan, a mid-major college in Ypsilanti, Michigan, in 2016.
In just one season, they left a lasting legacy. They took the Mid-American Conference school to the 2016 NCAA Regionals, won the 2016 MAC title and finished with a No. 17 national ranking.
Jessica and Jay have coached, competed and judged at youth and collegiate levels since the early 2000s. The two met in February 2007 through mutual friends in the sport, and the rest, as they say, is history.
Rachel Slocum, a former EMU gymnast and current Arizona State volunteer assistant coach, felt the couple's impact, not just as an athlete, but now as a budding coach in the sport.
So much so that Slocum dropped everything and moved across the country to work, unpaid, for her former coaches to, as she describes it, be a part of what they are building at Arizona State.
"I was a diamond in the rough," said Slocum, describing her time competing with Jessica and Jay. "I was very wavy and curvy and they very much put me on the straight and narrow."
Being equally in charge of the ASU program is a big step in the eyes of some, but all that matters to the Santoses? Getting their athletes ready to compete in the gym, in the classroom and in life.
"She's really organized, great at … planning things out," Jay said of Jessica. "She can really see pictures like that really well."
Said Jessica of Jay: "He's much better with most of the communication and meetings."
At the start of an average practice, Jessica is in their gym office planning, on some occasions to host recruits at a football game the following weekend. Her husband is out on the gym floor meeting with the athletes in a small semi-circle before warm-ups.
Arizona State gymnastics team vaults into spotlight with convincing victory over Arizona
Their dynamic is electric, enthusiastic. Their voices carry over the chaos. The loud thumping music, athletes chanting, powerful gymnasts landing a multi-twisting flip off the bars – it's all right on rhythm with Pitbull's "Fireball."
Outside the gym, the couple's coaching titles melt away. They become mom and dad to Cooper, 7, and Mason, 4. Cooper loves baseball, and roots for the Arizona Diamondbacks. Mason is the "class clown" in baseball, Jessica said.
"He runs around the bases really slowly," she said sheepishly.
The competitive duo also share an NFL rivalry. Jessica, who hails from Maryland, loves rooting for the Baltimore Ravens. Jay, who is originally from Massachusetts, is a fan of the New England Patriots.
The jury is still out on their two sons.
"She has done a great job of convincing them that the Ravens are the best team even though the Patriots have had the run that they've had," Jay said. "The boys are mama's boys. Unfortunately, she has them (on her side) at the moment. We'll see if that lasts."
They're competitive in the gym, and in life. Jessica and Jay Santos are the spark for the ASU gymnastics team, and they wouldn't have it any other way.
"We said that when we came here," Jessica said, "that we are a package deal."