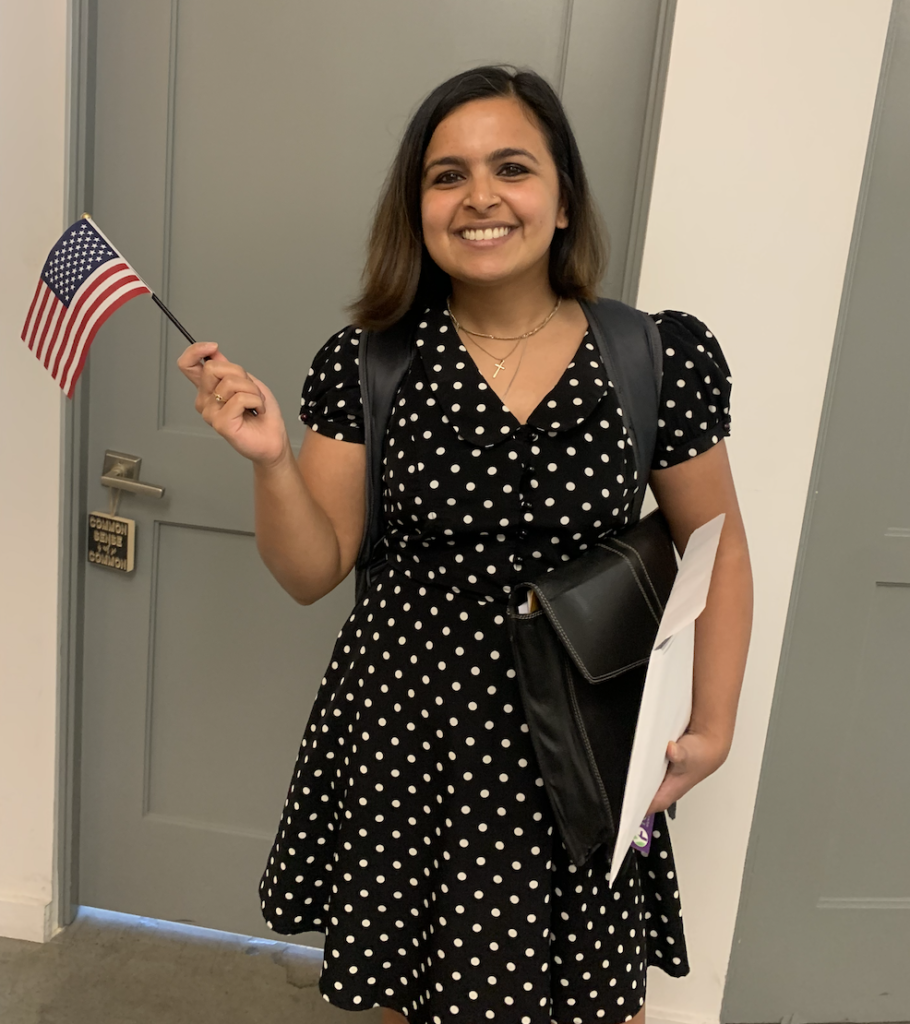 By Madelaine Braggs | Rose Law Group Reporter
Rose Law Group is celebrating the personal achievement of one of the team's brightest stars. Shruti Gurudanti, Corporate Transactions Chair and founder of tele-health company televëda, became a United States citizen on Monday.
Originally from India, Shruti holds a B.A.LLB (Hons) from the National Law Institute University, India and a JD from the University of Arizona James E. Rogers College of Law. Shruti is licensed to practice in India as well as in Arizona. Prior to working as an attorney in the United States, Shruti worked as an attorney in India, where she represented clients in domestic and cross border Mergers & Acquisitions, strategic and private equity investments, inbound and outbound foreign investment laws and general corporate law advisory. She also worked for the Indian Space Research Organization and has recently helped with a deal for the Mars Rover.
Shruti said the citizenship process was easier and faster than she anticipated. She was given her certificate of naturalization on the same day as her interview with the Department of Homeland Security. This is becoming increasingly common and immigration advocates hope the expedited process will encourage more citizenship applicants.
"I feel like I can finally call this place home because home is no longer in the country I was born and brought up, now this is officially home. I'm looking forward to voting and making my voice heard," she said.
At Rose Law Group, Shruti focuses her practice on corporate and transactional law, including Mergers & Acquisitions, joint ventures, private equity and venture capital. Most recently, Shruti worked as a member of the Global Hotels & Leisure practice group in the Phoenix, AZ office of an international law firm, where she focused on representing hotel owners, investors and developers in all types of hospitality and leisure transactions throughout North America, Mexico, the Caribbean, Europe and Asia, particularly in the luxury and upscale segments.
She represents clients in connection with the drafting and negotiation of hotel management agreements, hotel purchase and sale agreements, franchise agreements and other related agreements for hotels, resorts, condo-hotels and mixed-use projects with residential and retail components, spas, restaurants, golf courses and other hospitality-related facilities and amenities.
This year, Shruti was mentioned in Forbes' Top 50 Women in Tech and her company televëda was named Tech Start-Up of the Year by the Phoenix chapter of Girls In Tech, a global organization committed to building diverse and inclusive tech workforce.