The low levels at Lake Mead have forced Arizona and Nevada to reduce water use after the federal government declared the first-ever shortage on the Colorado River earlier this year. The seven states that use the river are working on plans to deal with continued drought./File photo
By Brandon Loomis | Arizona Republic
LAKE MEAD NATIONAL RECREATION AREA, Nevada — The white "bathtub ring" the shrinking Colorado River has left behind on the beige rocks behind Hoover Dam shows the growing urgency of acting on climate change and drought, Vice President Kamala Harris told reporters on Monday.
In 20 years of drought that was supercharged by heat, water levels have dropped more than 140 feet, creating the white band Harris talked about as she touted the Biden administration's spending priorities.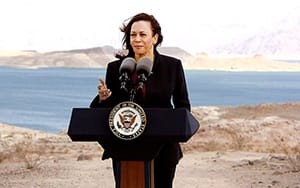 The low levels have forced Arizona and Nevada to reduce water use after the federal government declared the first-ever shortage on the Colorado River earlier this year. The seven states that use the river are working on plans to deal with continued drought.
Harris said a bipartisan trillion-dollar infrastructure deal and an even larger partisan budget reconciliation bill would help the Southwest retain water behind the dam and look for other new or recycled sources.
"This is about thinking ahead, recognizing where we are and where we're headed," she said at a lectern set up at the National Park Service's Sunset View Scenic Overlook on the reservoir's receding west end. "This is literally about life."
Millions of Americans in the Colorado River basin rely on it directly for water, she said, and others around the country eat the food it grows.
The infrastructure deal that passed the Senate and awaits House action includes $4.6 billion for aging infrastructure and rural water projects, including $400 million for water-saving programs.
An example of one such small project that received $75,000 in federal funds last year is the Yuma County Water Users Association's installation of 49 smart meters to increase efficiency in pipes. Another put $300,000 toward Goodyear's installation of five injection wells to recharge the West Salt River Aquifer with available reclaimed water. The Bureau of Reclamation program is sprinkling $73 million across the West for such programs this year and could apply much more with the infrastructure funding.