Opinion: The Arizona Republican Party is giddy with excitement over all that election fraud uncovered in Arizona. All nine cases. Can a fundraising grift be far behind?
By Laurie Robert | Arizona Republic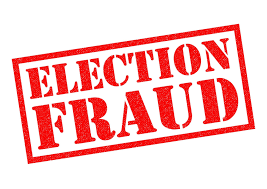 At long last, that hallowed day has arrived. This historic moment when Arizona's conspiracy crowd can rise, with one voice, and proclaim, "aHA!"
Yes, it seems that Arizona's elusive election fraud has finally been uncovered.
The Arizona Republican Party was jubilant at the news, delivered in Attorney General Mark Brnovich's interim report on the findings of the Maricopa County election audit.
"BREAKING NEWS: Arizona Audit w/ @KelliWardAZ. AG @GeneralBrnovich has determined widespread FRAUD in the Maricopa County 2020 election," the Arizona Republican Party breathlessly reported.
State GOP Chairwoman Kelli Ward was practically orgasmic.
"Perp walks & prosecutions on the way! #ElectionIntegrity," she tweeted.
Ward even made a video about it (with a fundraising plea, no doubt, still to come).