Message from Supervisor Thomas Galvin
As usual, a lot of exciting things are happening in District 2! Below are several items of note that you will find interesting, which include a visit with the Town of Gilbert, tips on keeping our air clean, and investments the Board made to address issues related to affordable housing. Stay cool and keep reading.
The 4th of July is a fun time of year when family and friends gather to celebrate Independence Day at backyard barbeques and to watch fireworks displays. The 4th of July also marks a time in history when the original 13 colonies bravely declared independence from Great Britain in 1776. We are fortunate to live in a country that celebrates and embraces independence and freedom. I am fortunate to represent a district in Maricopa County filled with wonderful people who embody strength, independence, courage, and resilience, and who are willing to help make the community a better place. Thank you. I wish everyone a safe and happy 4th of July!
What's Happening in District 2
Join Supervisor Galvin on June 21st for County Coffee
Board of Supervisors Chairman Bill Gates will be hosting County Coffee on June 21, 2022. Come and join us for a lively discussion along with newly appointed Maricopa County Attorney Rachel Mitchell.
Date: Tuesday June 21, 2022
Time: 8:00 AM- 9:00 AM
Locations: Eggstasy Scottsdale Rd and Shea Blvd
6990 E. Shea Blvd
Scottsdale, AZ 85254
Phone: (480) 500-5889
RSVP: District2@maricopa.gov
Discussion: Updates from District 2 & the County Attorney's office
Thank you to Eggstasy for hosting. We encourage all guests to try their BREAKFAST MENU.
---
A Visit to the Town of Gilbert
Earlier this month I met with Gilbert Mayor Brigette Peterson, Councilwoman Yung Koprowski, Town Manager Patrick Banger, and city staff to talk about important issues; economic development, trails, public safety, housing, & transportation. We discussed how Maricopa County can work together with Gilbert.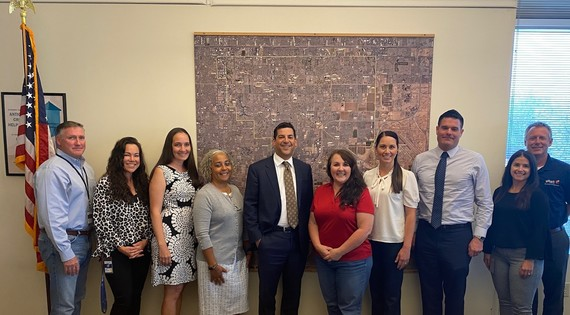 PHX East Valley Partnership
I had the privilege of meeting with John Lewis and Mike Hutchinson from PHX East Valley Partnership. We discussed economic development, water, transportation and housing issues.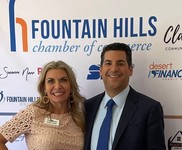 Meeting with Fountain Hills Chamber of Commerce
I was able to meet with Fountain Hills Chamber of Commerce President and CEO, Betsy Lavoie. I enjoyed touring their building and learning more about what the Chamber does to support commerce and small businesses in the strong community of Fountain Hills. Betsy and her team are doing a great job advocating for Fountain Hills.
Free Green Waste Drop-Off Events
The FREE green waste drop-off events are intended to assist residents in developing necessary defensible space around their homes and other structures that could fuel fires. Refer to the above graphic to see what items are accepted at no cost and what items are accepted but subjected to a fee.
For more information, please contact:
Maricopa County Environmental Services Department
Waste Resources & Recycling Division
Cave Creek Transfer Station
3955 E. Carefree Hwy
Cave Creek, AZ 85331
602-506-4006
This program is for residential use only. Commercial loads, including landscaping materials, will not be accepted.
What's Happening in the County
Maricopa County Seeks Public Feedback on Draft Redistricting Maps
The Maricopa County Board of Supervisors is asking for public comment on five draft maps that would adjust the boundaries of the county's five supervisorial districts. This redistricting is required by law following the 2020 Census.
"We believe the five options presented by the Elections Department satisfy all legal requirements, but we know that any change to political boundaries can have wide-ranging impacts, so we want to hear what residents, cities and towns, schools and businesses, and other community groups have to say about these options," said Chairman Bill Gates, District 3. "You can view all options of the draft maps at Maricopa.gov/redistricting and provide comments that this Board will consider before approving a final map."
CLICK HERE TO SUBSCRIBE TO SUPERVISOR GALVIN'S DISTRICT 2 NEWSLETTER