(SCOTTSDALE, Ariz.) —Russ Lyon Sotheby's International Realty has developed a well-earned reputation for finding buyers and sellers for homes defined by their luxury, sophistication, and incredible amenities. When it does so with homes designed by masters at their craft, it leads to an even more fulfilling experience for all involved.
With this spirit in mind, Russ Lyon Sotheby's International Realty is proud to announce that it has listed the property located at 10711 E Fernwood Ln., Scottsdale for $2.995 million. But what really makes this home particularly special is that it is a reimagined design of world-renowned architect Bing Hu. The Power of 4 are the selling agents for this unique property.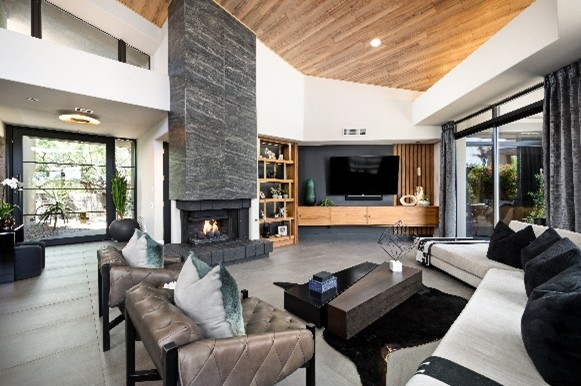 Hu is one of the most sought-after, award-winning architects around the world. He has completed over 300 projects at a combined construction value of over $10 billion. A graduate of Taliesin West (Frank Lloyd Wright's architectural school) in Scottsdale, Hu is well known for continuing to involve and bringing a unique style and flair to every single project.
"While this house was designed nearly 30 years ago, it stands as a testament to the timelessness of organic architecture. Taking the principles I learned from my time as an apprentice at Taliesin, I designed this house with modern simplicity in mind," said Hu."The house combines classicism and modernity, with clean lines and a material palette that fits the surrounding desert landscape. The pitched roof form creates visual interest in the interior spaces and is complemented by deep covered porches that provide necessary protection from the scorching desert sun. The reimagined interiors elevate the home to provide luxurious finishes while still allowing the original architecture to shine."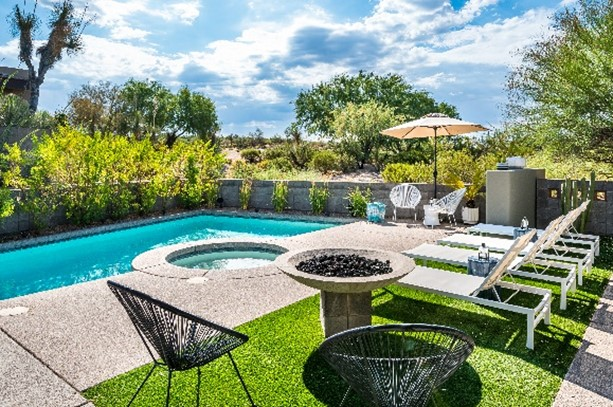 The home is owned and remodeled by Jeffrey and Roger Florentine; Jeffrey is the owner of JSF Design Inc, which specializes in luxury hotel interiors, luxury custom home interiors, and luxury home remodeling with many projects for their Arizona clients as well as east and west coast developers. In the words of Florentine, "Designing is the gathering of different elements that tell a story specifically tailored to the home. They are to be enjoyed for years to come; relevant, but timeless in a way that captures the soul."
This contemporary Modern-Retro home, situated in the world class community of Desert Mountain, can best be described as a masterpiece of modern luxury and sophistication, with a golf fairway and greenbelt providing separation from other homes. The 2,850-square-foot, 3 bed and 3.5 bath, one level home was designed to maximize both space and light yet minimize maintenance with the use of natural materials such as stone, steel and glass. Its enigmatic and sophisticated hues fill the room with a deep moody feel, and the warm color pallet gives a seductive and luxurious vibe, creating a contrast perfect for showcasing furniture, accessories and artwork, all included in the price.
The home has grain-matched custom cabinetry throughout the house, from the kitchen to the custom bookshelf with brass plated holders to the bathroom vanities and laundry room. The wood slats in the bedroom, kitchen banquet and powder room are all custom colored and installed, and every drapery was custom-made with the highest-grade fabric that is both durable and thick. The plumbing in the bathrooms and showers are also custom made and brass plated, further exemplifying the thoroughly bespoke luxury of this home.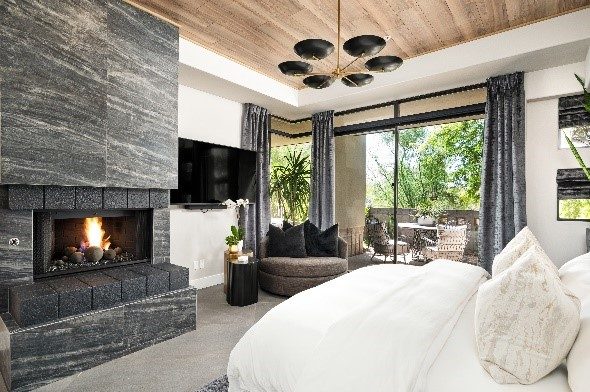 Kathleen Benoit from the Power of 4 at Russ Lyon Sotheby's International Realty had this to say: "This visionary team took the home to the next level and beyond". In the words of Karen Baldwin, also on the Power of 4 team, "Pure fun from the entry to the poolside". Lastly, from Bee Francis, also from Power of 4: "So liveable and such exciting design features throughout."
Starting in the primary bedroom, a double door entry gives a grand entry, with Berkley solid core doors with solid handles that are soft to the touch. The closet has solid double pocket doors that open up to a two-person closet. It features a fireplace filled with black glass, a circular swiveling soft seat and a mid-century modern chandelier; comfort intersects with class. The shower was extended and lit with LED lighting in the shower and under the vanity. As is a common theme, everything was custom made.
For those looking to host and make wonderful meals for friends and loved ones in the kitchen, it has a newly renovated and upgraded layout with a custom hood and walnut cabinetry, along with leathered stone counters with custom banquette and a leathered stone tabletop and custom walnut wall detail. Each appliance was selected specifically as a "best in category" appliance; with a Gaggenau fridge freezer, Dacor double over, Miele coffeemaker, and Sub Zero range and icemaker, it strikes the perfect balance between form and function.
This home further exemplifies how impressive it is as a place to bring friends and family together with a smoked oak dining room table with smoked glass and commercial high-quality leather seating that simply feels like first class. Kick back and grab a beverage in the wet bar with countertops and waterfall with 4" thick stone that was designed with a luxury hotel experience in mind.
Lastly, you can bring the gathering out to the back yard which contains an outdoor living room with a plush couch and club chairs as well as a TV for watching your favorite show in the cool evening air, or you can head to the fire pit to warm up some. Misters cool the room down in the summer, but you can also take a dip in the pool to beat the heat.
Luxury…sophistication…pragmatic aesthetics. This home has it all for the right person who can truly appreciate when both function and form intersect, are elevated and are honored. Yet another hallmark listing from the leading name in luxury homes, Russ Lyon Sotheby's International Realty.