Hualapai Chairman Damon Clarke/JESSICA SUERTH/CRONKITE NEWS
About half of Arizona tribes still have not settled their water rights and some have waited decades under mountains of court documents.
By Debra Utacia Krol | Arizona Republic
Nearly everybody in the tangled web of water law and policy agrees that Indigenous people hold senior rights to water.
Yet the pipeline from a courtroom or a legislative body to clean water running out of taps in reservation homes is often clogged with broken promises, neglected funding commitments and contaminated water supplies.
Tribal water rights could be aboriginal, or "time immemorial," rights rooted in the history of a tribe and its home, or federally conferred rights, such as those affirmed by the groundbreaking Winters Doctrine, which forms the foundation of modern tribal water law, or both.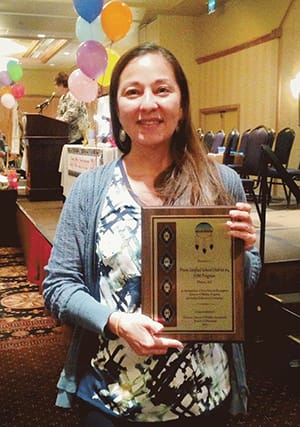 About half of tribes in Arizona have yet to resolve their water rights for various reasons. The largest case in play involves the giant Little Colorado River settlement that involves 6,000 litigants, including the Navajo Nation and the Hopi Tribe, which have some of the nation's highest rates of homes lacking water. The Hualapai Tribe, meanwhile, wants to secure a small amount of water to create jobs and ensure clean water for its people, a proposal that carries a hefty price tag.
But water is more than just a commodity to Indigenous peoples. Tribes say water is life itself for the people, plants, animal life and the land itself.
"Water is a human right," said Heather Tanana, a Navajo Nation citizen and nationally known water policy expert. "It's a necessity of life for individuals and communities to thrive."
Little Colorado: The adjudication that never goes away
The Navajo and Hopi tribes have long contended with a lack of clean water for homes. The Environmental Protection Agency said the Navajo Nation had managed to halve the number of homes with no clean water from 2003 to 2020, yet according to the agency's figures,15% of homes in the Navajo Nation still lack running water.
Some tribal members say the number is closer to 30%. And the 2000 Census reported that 27% of homes in the Hopi Tribe's land base struggle without running water.
Both tribes contend with water supplies that are contaminated with uranium, arsenic or other toxic materials. Many Navajo and Hopi families must haul water, sometimes from miles away, and carefully ration each drop to make it last between trips.
Nicole Horseherder lives this reality daily. "We're in a water crisis right now," she said. "Our water table is lower than it's ever been before. A lot of the springs and the seeps all over the plateau have disappeared."