A slate of "fake electors" casts votes for Donald Trump in 2020.
Ronald J. Hansen || Arizona Republic
The State Bar of Arizona is investigating multiple attorneys related to the 2020 election, with one inquiry requesting the emails of a lawyer who was prominently involved in assembling the "fake electors" who falsely claimed then-President Donald Trump won the state.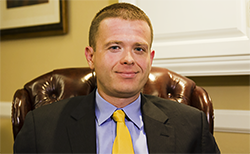 A retired judge involved in the probe sought emails Friday from a reporter with The Arizona Republic involving Phoenix lawyer Jack Wilenchik, who helped convene the Trump slate of electors for Arizona in December 2020. The judge also asked for any communications between Wilenchik and Republic reporters.
In the emails, first reported on by The New York Times in July, Wilenchik acknowledged the alternate electoral slate wasn't legal. Another lawyer involved in the coordinated effort in several key states, Christina Bobb, shared with Wilenchik and others receiving the emails that at least one GOP official in Pennsylvania worried the undertaking was illegal, the Times wrote.
Wilenchik was not immediately available for comment Friday afternoon. He is a longtime GOP lawyer who has ties to some of the key figures involved in the efforts to overturn or at least cast doubt on the state's 2020 presidential election results.
The Arizona Supreme Court tapped retired Pinal County Superior Court Judge Stephen F. McCarville in April to serve as deputy independent bar counsel in a probe "related to the November 2020 election," according to an administrative order by the court.
The language of the order suggests the state Bar needed extra help to manage a large number of filings against lawyers.
"Due to the number of charges received … it may be necessary to utilize State Bar Counsel and investigators to assist," the state Supreme Court wrote in its order creating McCarville's role.
Probes by the state Bar can provide grounds for legal discipline or lead to criminal prosecution if warranted.
What was the reason for the fake electors?
MORE:
Wilenchik's emails offered a troubling window into the effort by Trump and his allies to halt Joe Biden's presidential election victory.