(GOODYEAR, Ariz.) – Greenlight Communities, whose mission is to innovatively provide modern attainable and non-government subsidized affordable housing to Arizonans is proud to announce the launch of their first Cabana Design Competition.
Greenlight Communities is calling all individuals and teams passionate about design to participate in the Inaugural Cabana Design Competition, sponsored by Greenlight Communities.
The contest will take place on site at Greenlight's latest Cabana Community called Cabana Encanto located at 2323 N 150th Drive in Goodyear, AZ 85395 which is currently open and leasing up fast.
Greenlight Communities Cabana Design contest is an opportunity for up-and-coming Arizona designers, architects and artists to showcase their talent and build their dream Cabana for a chance to win prizes, including up to $5,000 or a FREE Year of Rent. Other prizes include: $2,000 for second place, $1,000 for third place and $750 for fourth place.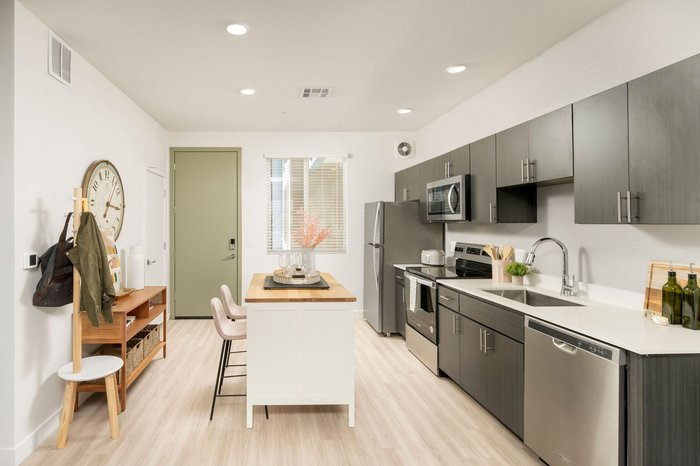 "Greenlight Communities is beyond thrilled to announce the launch of the Cabana Design Competition," said Patricia Watts, Co-Founder and Partner at Greenlight Communities. "We are calling for all local creatives who are passionate about design to showcase their talent and enter the competition, as this is the perfect opportunity to get involved with the community while being awarded for your talent."
The Challenge calls for contestants to get creative and utilize their skills to create a floor to ceiling design of a 468-square-feet studio apartment that embraces "small footprint/large life" philosophy of the Cabana brand. Five finalists will be chosen to bring their inspiration boards to life in an actual apartment unit at the Cabana Encanto property, developed by Greenlight Communities, in Goodyear, AZ. Each finalist has 25 days and a budget of $3,500 to spend on supplies and décor.
This year's judges include Kathy "The Crafty Chica" Cano-Murillo, full-time Creativepreneur, Sadie Thille, Office and HR Manager of Greenlight Communities, and Gary Guerin, Creative Director and Co-Founder of STEM Swag.
"I'm delighted to be part of something so unique and creative for our community," said Judge Cano-Murillo. "What a wonderful way to spotlight local artists, creators, and makers, I can't wait to see what our contestants come up with."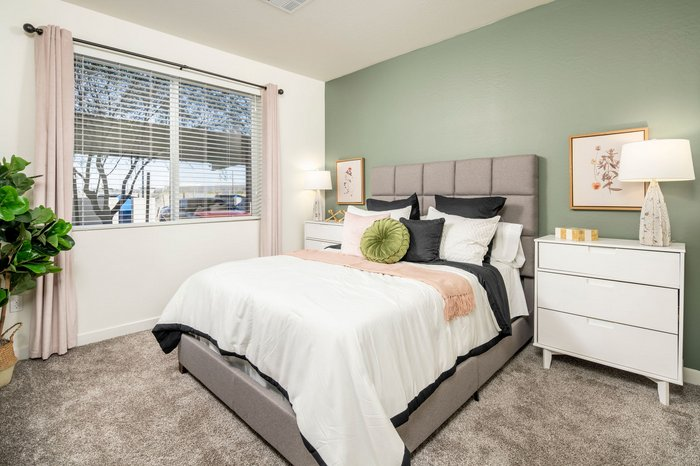 **Deadline for submission is Sept. 16th at 12:00p.m. (MST). The five finalists will be announced on Sept. 28th with online voting beginning on November 1st.
The Cabana competition winners will be announced at a Public Open House Event on Saturday, November 12th, 2022 from 10:00 a.m. – 2:00 p.m.
Guests can enjoy FREE refreshments, light bites, a DJ and entertainment while touring the finalists completed and creatively designed studio units.
Tours and in-person voting begin at 10:00a.m. In-person voting ends at noon with the votes being tallied. The judges will announce at the winners at 1:00p.m.
"We are just thrilled to present this incredible opportunity to talented creatives in Arizona. Who better to showcase that you can live large in a smaller space? We look forward to seeing the incredible designs contestants come up with and we look forward to holding this competition for many years to come," Patricia Watts, Senior Partner, Greenlight Communities.
For more information on contest requirements, including how to enter, please visit cabanadesigncompetition.com.
To learn more about Greenlight Communities and their continued effort to build attainable housing please visit LiveGreenlight.com or call (450)-609-6779.
For media inquiries please contact Jennifer Parks-Sturgeon at JParks-Sturgeon@RoseAllynpr.com or call (480)-495-3806.
About Greenlight Communities
Greenlight Communities believes that everyone deserves to live in a home they can afford in a community that they love. By disrupting the traditional apartment model, Greenlight is able to develop attainable rental housing that meets that needs of today's budget-conscious renter. Combining modern design with technological advancements in construction and operations, Greenlight's Cabana apartment brand will provide studio, one and two-bedroom units in well-located communities through metro Phoenix. More than 3,000 units are currently under construction or in planning and development.
About The Judges
Kathy Cano-Murillo
The Crafty Chica
Kathy Cano-Murillo, The Crafty Chica, is a former syndicated newspaper columnist and now a full-time creativepreneur which has led to multiple product lines and collaborations with national brands. She has authored several craft books, novels, a book about the life of Frida Kahlo, and her latest – The Crafty Chica Creates. She has
new product lines with Makers Movement for HSN, Bisque Imports, Madison Park Greetings, and Riley Blake Fabrics. She has been featured in Forbes, The New York Times, Buzzfeed+ more.
Gary Guerin
Creative Director and co-founder of STEM SWAG.
Gary is a one-of-a-kind creator that has carved out a niche in the world of making the impossible possible. For over two decades, his edgy, resourceful approach has resulted in creative collaborations with some of the most recognizable brands in the world. Notably, Gary's fearlessness and dynamic approach landed him at The White House where he produced a portrait
studio for Instagram and the Obamas. Gary was the owner & creator behind the illustrious SWAY Events, known throughout the industry as a go-to planner for clients like American Music Awards, Village Voice Media, Johnny Rockets, Budweiser, and Skyy Vodka. Gary is currently the Creative Director and co-founder of STEM SWAG; a boutique floral design + gifting company which includes a portfolio of clients such as Playboy, Zillow, Phoenix Children's Hospital, Kettle One, and many more.
"I'm always inspired by and an advocate of giving makers a platform to showcase their talents. You don't have to have a million-dollar budget to pull off a stellar design. I relish the opportunity to be as close to every project's design details as possible so I'm so excited to see what resourceful and innovative designs the contestants for the Arizona Design Competition have up their sleeve."
Sadie Thille
Office / HR Manager, Greenlight Communities
Sadie Thille earned her bachelor's degree in Psychology from Arizona State University but has since worked in the Design/Build construction industry for the last decade. Sadie currently manages the Greenlight office, Human Resources and Marketing. Sadie is thrilled to be part of the creative, compassionate Greenlight team who strives for innovation.