By Mike Sunnucks | Rose Law Group Reporter
Tempe-based VKW Construction has filed plans with the City of Scottsdale for renovations and expansion of a longstanding hotel property near Pima Road and Indian Bend Road.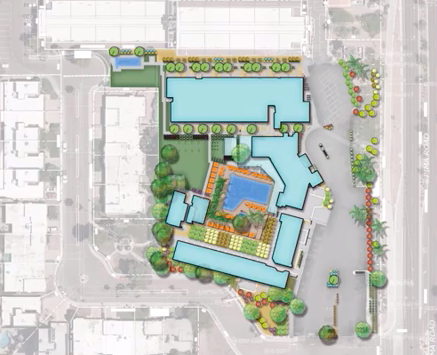 The hotel parcel was long branded as the Days Inn and Suites and currently operating under the Independence 47 Hotel.
The revamped hotel will be operated as The George Hotel.
VKW is asking the city for an amendment to an existing permit case and has also filed for site and development plan approvals.
The current hotel has 47 rooms. Renovation and expansion plans call for 100 rooms with a new 3-story building as well as meetings and conference spaces, a restaurant and modernized pool area.
The spruced up hotel will total 82,940 square feet, according to plans filed with the city.
Tucson-based Fors Architecture is leading design efforts for the hotel push.
The property is located at 7330 N. Pima Road across from the Great Wolf Lodge and Salt River Pima Maricopa Indian Community and its shopping centers and Cactus League baseball complex that is home to the Arizona Diamondbacks and Colorado Rockies.