(SEDONA, Ariz.) —Russ Lyon Sotheby's International Realty has a 75-year history representing buyers and sellers for many of Arizona's finest and most extortionary properties and that long-standing tradition continues with a truly remarkable, once-in-a-lifetime property that is now Sedona's most expensive residential listing to date.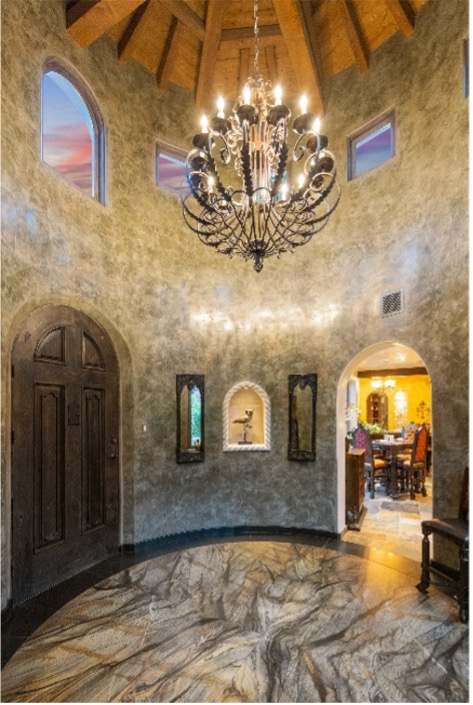 Russ Lyon Sotheby's International Realty is proud to announce 330 Eagle Mountain Ranch Road in Sedona, Arizona is available for sale at $19.445 million by Russ Lyon Sotheby's International Realty Agent Devin Johnston.
As the price tag would indicate, this luxury Tuscan-style Villa was built sparing no expense and the home is also Sedona's best kept secret. Long-time local residents and few realtors are aware of the existence of this private gated subdivision with only five luxury homes.
Located in world-famous Sedona, the 57+ acre dream property includes 1,700-square-feet of Oak Creek frontage and is surrounded by National Forest Service land. Be one with nature in this pristine environment that abounds with local wildlife and all the modern-day comforts. Feel the ancient serenity and see the footprints still visible in the petroglyphs that can be found just a short distance from the properties edge.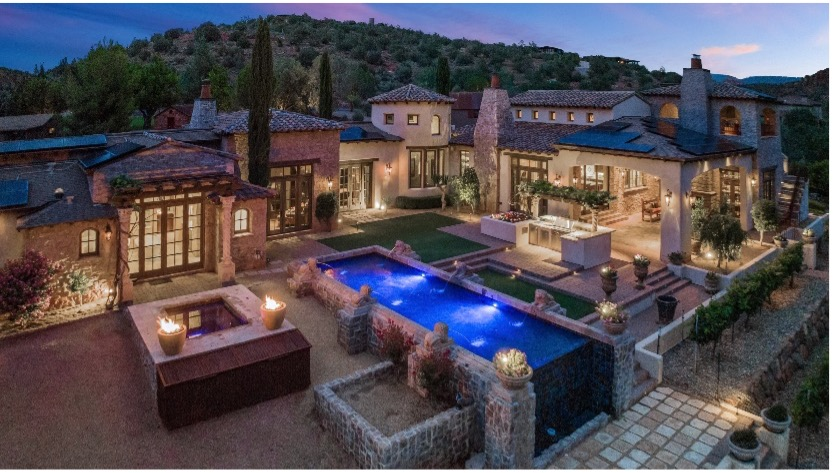 "Eagle Mountain Estate is a truly unique Sedona property that combines over the top luxury living with acreage and gated security. The property offers soaring cliffs, ownership of both sides of Oak Creek, fruit orchards, an open meadow and even a pond. This combination has never been available in any property ever listed in Sedona," said Johnston.
Requesting anonymity, the seller said the time has come to let someone else enjoy this pristine property that has been a part of Sedona's rich history for many decades.
"We have been so blessed to live here in this amazing house and in this sacred Valley for more than a decade but we are now ready to give someone else this incredible opportunity so that they too can enjoy the experience and be the guardians of this beautiful property."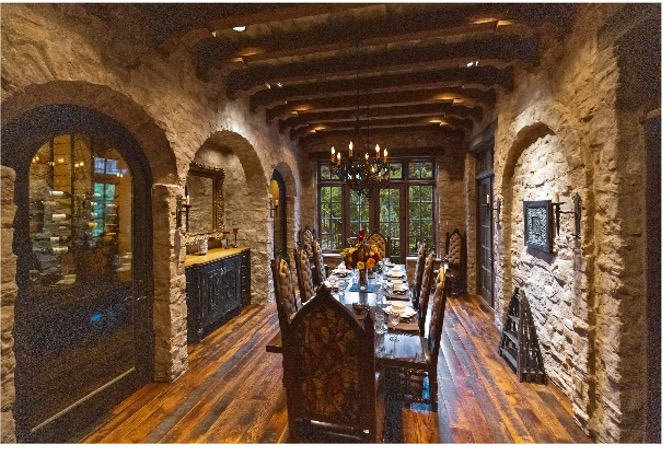 The main house offers 3,700-square-feet of luxurious mountain living with the finest finishes and timeless architecture. Built in 2006, and then extensively remodeled in 2015, the Villa utilizes top quality Venetian Plaster and American Clay finishes, hand distressed mesquite cabinetry and slab granite. Appliances are Subzero, Wolfe, and Viking. The kitchen has two dishwashers, warming drawer, two convection ovens, and island prep sink. The fully outfitted bar includes a double kegerator, subzero refrigerator and Scotsman ice maker.
In the Master Suite, there is a coffee bar with a full-size dishwasher and subzero bar refrigerator all tastefully hidden behind the custom mesquite cabinetry. The Master Bath offers separate sinks and vanities with an above ground soaking tub and majestic chandelier. Just off the Master wing is a 777 gallon in-ground Jacuzzi tub with gas-lit braziers overlooking Oak Creek. This smart home has a SONOS supported sound system throughout the house and Crestron lighting and speaker volume control.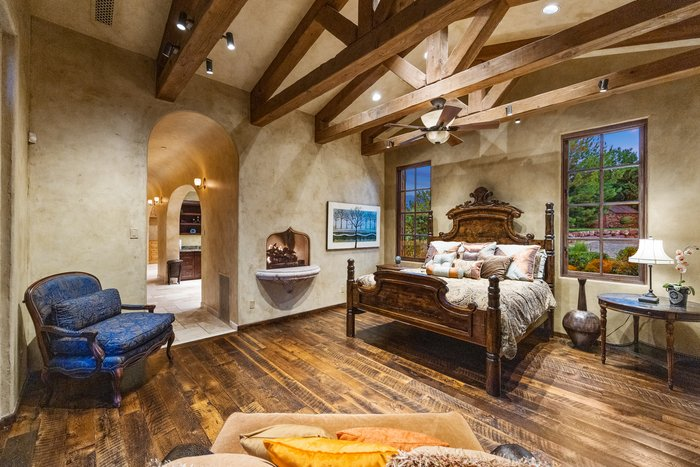 Twin refrigerated wine racks grace the majestic dining room and have the capacity for up to 500 bottles. The estate also boasts its own private vineyard with over 60 Zinfandel grape vines yielding approximately 500 gallons per year. There is also reflecting pool, two historic guest homes, a rustic barn and two historic, small, red rock constructed storage buildings are also on the property. The gated motor court and oversized four car garage with mini split climate control keeps your vehicles comfortable.
For those that prefer self-sufficiency or just lower energy bills, this home offers an owned 23KW solar power system. As well, there are two 1,000 gallon buried propane tanks that feed a 48KW backup home generator so you never lose power. Recirculating, instant hot water is also available throughout the entire house.
The grounds include more than 1,600 apple, nectarine and peach trees all watered with fully automated irrigation systems. A charming pond with fountain water feature and dock graces the large meadow and is viewable from Eagle Mountain Ranch Road. If you want to practice your golf swing then the six-acre meadow is the perfect place! Alongside of Oak Creek is a beach party area with outbuilding, large fire pit, and volleyball area.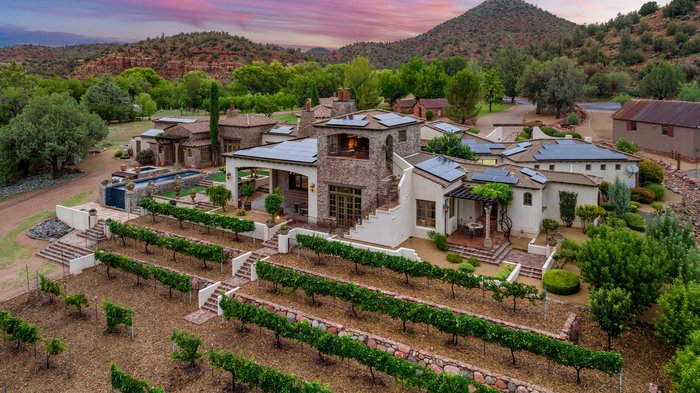 Maybe most impressively, the estate also includes a 62.5% controlling interest in the professionally managed HOA, so the owner has majority voting power in their possession. The subdivision is fed by three private wells with a new 34,000-gallon water tank that has a dedicated backup generator. The pond is fed by a creek pump which also irrigates the meadow and orchards.
Most of the 57 acres is zoned agricultural, saving over $40,000 in property taxes on an annual basis. Paperwork regarding water rights to Oak Creek will be included with sale. If you have been searching for the perfect Sedona property that offers privacy, security and Oak Creek frontage then the Eagle Mountain Estate is it!
Between a vineyard, HOA control, majestic vistas and agricultural zoning, this property is a different type of special. Incredible experiences and future memories await the next owner of this hallmark property, courtesy of Russ Lyon Sotheby's International Realty.