By Keith Walther | Rose Law Group Reporter
Once again, Dwayne Johnson rescues an uninspired screenplay from the trash heap with his performance to elevate this film. "Black Adam" is another comic book inspired action film, but this time from the DC universe. Think of this as a darker, anti-hero version of "Shazam!".
After a 5,000-year slumber, Teth-Adam (Dwayne Johnson) is awakened from his tomb to once again free the city of Kahndaq from oppression. Bestowed with the powers of the Egyptian gods, Adam doles out his own form of justice with a temperament that would make the Hulk jealous. Adrianna Tomaz (Sarah Shahi) is responsible for not only freeing Adam, but also obtaining the Crown of Sabbac, an extremely powerful artifact that is said to contain the power of demon gods.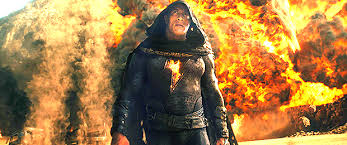 With a god-like being on the loose killing every bad guy he sees and an evil artifact in play, the Justice Society (it's like the Justice League B-team) is called into action to re-imprison Adam and prevent the crown from falling into the wrong hands. Hawkman (Aldis Hodge), Dr. Fate (Pierce Brosnan), Atom Smasher (Noah Centineo), and Cyclone (Quintessa Swindell) make up this crew and they quickly appear to be in over their heads. As Adam and the Justice Society square off against each other, Ishmael (Marwan Kenzari) uses the distraction to make a power move for the crown, threatening to bring hell on earth.
"Black Adam" is the 11th film in the DC Extended Universe and is directed by Jaume Collet-Serra, a veteran filmmaker of unexceptional horror films like "Orphan" and Liam Neeson action films like "The Commuter." Mediocrity has proven to be this director's niche and "Black Adam" is no exception. His filmmaking style is extremely basic and lacks imagination. Jaume uses a cookie cutter approach that negates any suspense and makes for an utterly predictable climax. He doesn't bother to cover up glaring plot holes like Adam waking up after 5000 years and inexplicably speaking perfect modern English even though English has only been around for 1500 years.
Usually, these are clear indicators of a very poorly made film, but there are three things Jaume Collet-Serra does right to counteract the problems. 1. He creates a visual spectacle with the action sequences, combining eye popping explosions with impressively destructive fight scenes. 2. He incorporates some songs from The Smashing Pumpkins and The Rolling Stones that promote a feeling of dark, boiling rage that fits incredibly well with the scenes and the main character. 3. Most importantly, he lets The Rock do his thing.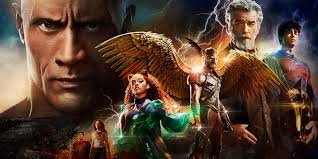 Dwayne Johnson is a complete entertainer at the core of his being and his talents shine once again in this film despite a poorly written script. He exudes confidence, creating a natural and believable performance as the ultimate anti-hero with comedic timing that is always on point. He's so much fun to watch, it would be interesting to see what he could do with a better filmmaking team in his corner.
As for the supporting cast, there are bright spots and not so bright. Veteran actor Pierce Brosnan gives exactly what the audience expects, a professional and stabilizing performance as Dr. Fate, who is basically DC's version of Dr. Strange. Aldis Hodge is an actor to watch as he showed some leading man potential as Hawkman, another DC character that mirrors a Marvel character, Falcon. Noah Centineo, Quintessa Swindell, and Marwan Kenzari are all bad actors who couldn't overcome the script, delivering lines that only succeed in pronounced eye rolls from the audience.
While completely flawed and predictable, "Black Adam" still manages to provide some gluttonous entertainment. To put it bluntly, the movie is dumb, but sometimes dumb is fun. As long as you know what to expect and turn your brain off, you'll have a good time.
This movie earns: