By Keith Walther | Rose Law Group Reporter
Before October fizzled to a disappointing end, it spit out one more movie that easily steals the month as its best film. "Till" is a drama based on a true story that evokes gut-wrenching emotion and makes a strong case to be considered for multiple Oscar nominations. This is a heart-breaking story and a hard watch, but one that needs to be shared.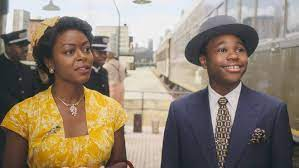 Mississippi 1955, around the beginning of the Civil Rights movement in America, is the setting of a horrific atrocity perpetrated on a child, leaving a mother in anguish and a nation hanging its head in shame. Emmett Till (Jalyn Hall), a 14-year-old boy who grew up in Chicago surrounded by love and innocently oblivious to the racism raging across the country, is given the opportunity to travel to a rural town in Mississippi to visit his cousins. His mother, Mamie Till-Mobley (Danielle Deadwyler) does her best to prepare her son for a trip into the deep south, but even she couldn't foresee the horrors that awaited him.
When Emmett is brutally tortured and lynched, Mamie seeks justice for her only child who was callously ripped away from her. She quickly realizes it will be an uphill battle as it was just a struggle to have the men responsible brought up on murder charges. The ensuing trial becomes a circus and a farce, leaving little doubt of the broken illusion that was the justice system for a long time in the bible belt.
Danielle Deadwyler provides a stellar, emotionally riveting performance as the grief-stricken mother trying to bring awareness to the nation regarding the truth of her son's slaying. She brilliantly displays the visceral, emotional reactions of a mother in poignantly vulnerable moments, while demonstrating stoic power with the emotion barely bubbling under the surface in scenes where her character tries to remain strong, so her message is not lost. This is her first major break in a leading role and it's an Oscar worthy performance that will hopefully not get lost in what is shaping up to be a banner year for leading ladies.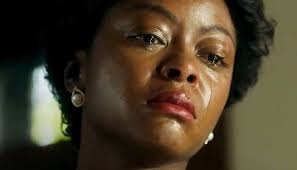 The teenage actor, Jalyn Hall, successfully meets the challenge of playing his most important role in his young career. He does a great job depicting the innocence and naivete of youth in a natural and believable way, incorporating subtle details in his performance to demonstrate his character's lack of awareness of the dangerous climate in which he finds himself. There's a natural confidence to his performance that's pretty rare in fellow actors his age. Maybe having a seasoned veteran like Whoopi Goldberg in a supporting role as his grandmother helped to keep him grounded.
Nigerian born filmmaker Chinonye Chukwu masterfully directs this moving drama. She cleverly uses continuous camera shots in such a way that makes the audience feel like an invisible witness to these tragic events. She correctly doesn't shy away from grotesquely startling visuals to make the content more palatable. Her commitment to detail and historical accuracy is commendable, further adding to the power of this film. As unfathomable as it may be, much of what happened in the film is what truly happened in 1955 according to historical records.
Interestingly, Chukwu chose to focus this story from the perspective of the grieving mother rather than the galvanizing symbol it became in the Civil Rights movement. Rosa Parks admitted to thinking of Emmett Till as she made her courageous stand on December 1, 1955. So, Chukwu had plenty of clout to make this center around the early stages of the Civil Rights movement but focusing on Emmett and his mother made this story that much more impactful and important.
"Till" is an emotionally significant film that is a perfect illustration of how ignorance, hatred, and fear can lead to unspeakable evil. Another terrific film that brings Mississippi's dark past to light is 1996's "Ghosts of Mississippi," the true story of the Medgar Evers assassination and the justice that took 30 years to achieve. Then there is the Oscar nominated "Mississippi Burning" from 1988, also based on a true story. Don't miss the chance to see "Till" in theaters but be sure to bring a box of tissues.
This movie earns: