By Keith Walther | Rose Law Group Reporter
Ever want to see good old Saint Nick kill some bad guys with a candy cane? If so, "Violent Night" is just the movie for you. It's the right kind of brainless action film that comes at the right time surrounded by serious Oscar contenders, and it's a Christmas movie that somehow conveys the holiday spirit albeit in a very violent way.
The movie opens with a disenchanted Santa Claus (David Harbour) getting drunk at a bar during a break from his gift deliveries, lamenting over this latest generation of kids who only seem to want video games or gift cards. The audience gets an early indication that this Santa more closely resembles Billy Bob Thornton's version than Tim Allen's. With many presents to deliver throughout the night, Santa continues on his not so merry way, consuming more and more alcohol as he goes to get him through the tedium of doing this journey for hundreds of years. His boredom comes to an abrupt end as he arrives at the Lightstone residence, an extremely wealthy family compound.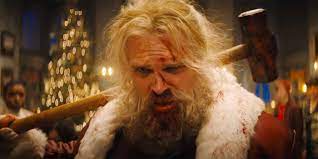 The Lightstones are besieged by a group of greedy mercenaries led by a man who refers to himself as Scrooge (John Leguizamo). Normally, Santa avoids involvement in people's lives at all costs, but when he finds little Trudy Lightstone (Leah Brady) in mortal danger, he decides to break those rules…and some necks too. With a daunting number of thugs on the naughty list, Santa hopes to have enough magic in his bag of tricks to deliver a Christmas miracle for this family.
"Violent Night" is exactly what it appears to be, a dumb action flick with absurd, over the top fight sequences that will have audiences busting out in laughter. David Harbour ("Stranger Things" & "Black Widow") makes this movie worth watching with his depressed, deadpan delivery and a murderous gaze that promises extreme violence if he gets pushed too far. He gives a relaxed performance in a role perfectly suited for him. His casual demeanor makes it feel like he isn't really acting at all and makes his characters very likable.
What's a Christmas movie without Beverly D'Angelo? That's right, the Griswald mom has a supporting role in this film as the wealthy, cutthroat matriarch who covets money more than her family. She supplies that sense of nostalgia while giving a comically opposite performance from her role in "Christmas Vacation."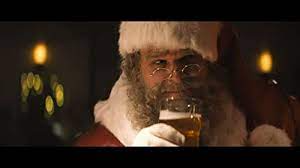 John Leguizamo plays the stereotypical antagonist and does it quite poorly. He doesn't connect at all with his character and might as well be reading his lines from a teleprompter with how ineffectually they were delivered. The rest of the supporting cast is subpar.
"Violent Night" is directed by Tommy Wirkola, whose previous efforts in 2013 gave audiences "Hansel & Gretel: Witch Hunters," one of the worst films of that year. His directing hasn't improved all that much since then, but he correctly relies on the talents of his star David Harbour and comedy to overcome his deficiencies. Watching Santa craft a shiv from a candy cane to deal out some death is priceless.
Wirkola's directorial style is best described as sloppy, which is on full display when one of the characters has a finger forcibly removed with a nutcracker only to show unblemished hands moments later and throughout the rest of the film…whoops! He also makes lazy, half-hearted attempts at building backstories for some of the characters that go nowhere. For instance, the audience gets glimpses that Santa was some kind of hellish Viking warrior back in the day, but that's as far as it goes, and he doesn't reveal how he transitioned into Santa.
Despite all the glaring problems with this movie, "Violent Night" provides gluttonous entertainment that helps relieve the stress of the holiday season. It's like "Die Hard" meets "Bad Santa" with some funny references to "Home Alone." So kick back, turn off your brain, and enjoy the spectacle of a sledge hammer wielding, beer guzzling Santa Claus taking out a bunch of naughty robbers in a variety of holiday inspired ways.
This movie earns: