By Keith Walther | Rose Law Group Reporter
As the title implies, "Cocaine Bear" is an absurd movie, but entertaining in a guilty pleasure sort of way. While the film is based on the wildly true story of smuggled cocaine being ingested by a bear, subsequently nicknamed Pablo Escobear, the story depicted of the bear's escapades is completely fictional. "Cocaine Bear" is an 80's style slasher flick infused with brutality and funny dialogue that gives exactly what the audience expects.
Set in 1985, during the height of cocaine proliferation in the U.S., a pilot (Matthew Rhys) carrying a huge quantity of the Columbian product hastily ejects his cargo over the woodlands of Georgia before jumping to his death. Drug boss Syd (Ray Liotta) quickly sends his son Eddie (Alden Ehrenreich) and his right hand man Daveed (O'Shea Jackson Jr.) to recover the drugs before the police. Detective Bob (Isiah Whitlock Jr.) is on the case to obtain the cocaine and put Syd behind bars for good.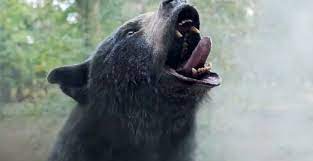 Meanwhile, Sari (Keri Russell) recruits the help of park ranger Liz (Margo Martindale) and animal rights activist Peter (Jesse Tyler Ferguson) to look for her daughter who has gone missing in the forest. When a black bear happens upon the scattered bags of cocaine first, all hell breaks loose putting the odd assortment of hikers, criminals, police, and teenage hooligans at risk from the drug fueled rampaging bear. There's just one guarantee, the powder nosed bear isn't the only thing that will be high, so will the body count.
"Cocaine Bear" is the third feature length film actress Elizabeth Banks has directed, and it's clearly her best. This isn't saying much since her previous efforts were the 2019 reboot "Charlie's Angels" and "Pitch Perfect 2." However, she unapologetically dials up the gratuitous violence and humorous dialogue/situations in this movie, making it a memorable spectacle for audiences.
Banks removes such trivial concepts like character development and established subplots, instead keeping the runtime to an hour and a half of entertaining mayhem. Even the special effects, which were shoddy at times, gives the film that B movie vibe. Throw in some iconic 80s tunes and hair that pairs nicely with the heavy volume of blood and guts, and you get a rewarding filmgoing experience. Although, the ending does drag a bit and could have used some polishing.
This is Ray Liotta's final completed film before sadly passing away back in May of last year. If it's one role Liotta knows how to play convincingly, it's a mafioso type role, and this was no exception. He taps into his "Goodfellas" persona one more time to give audiences a quintessential 80's bad guy. Ray Liotta will be missed.
Keri Russell is reunited with fellow "The Americans" castmate Margo Martindale. Russell is the consummate professional and doesn't disappoint even though she's given very little backstory with which to work. She expertly draws audience support for her character as a mother who would do anything to protect her daughter, even if it means confronting a bloodthirsty bear. Martindale on the other hand provides some surprising comedy as the authoritarian park ranger humorously trying to impress and romance Jesse Tyler Ferguson's character. Ferguson, of "Modern Family" fame, and Isiah Whitlock Jr. ("The Wire," "Your Honor") add their own amusing caricatures that complement the comedic nature of the film. Despite the lack of character development, the cast does a good job overall embracing their roles.
"Cocaine Bear" delivers exactly what it promises from the trailers, severe violence and gore in a darkly comedic way. Its simplistic plot structure is not to be taken seriously and certainly won't be nominated for any kind of awards, but it's a fun movie to turn your brain off, enjoy with a group of people, and drink an ice-cold beer together afterwards, laughing about what y'all just witnessed.
This movie earns: