By Keith Walther | Rose Law Group Reporter
M. Night Shyamalan returns to the big screen with his latest thriller, "Knock at the Cabin." M. Night, who has been dabbling in the streaming arena lately, has had a rollercoaster of a career as a writer/director, creating everything from some of cinema's best to some of the worst films ever made and everything in between. "Knock at the Cabin" is a tense, fast paced and symbolic film that is one of his better efforts in recent history.
When taking their young adopted daughter Wen (Kristen Cui) on vacation to a remote cabin, Eric (Jonathan Groff) and Andrew (Ben Aldridge) were simply hoping for a relaxing getaway and quality family time. Those hopes are quickly dashed when Leonard (Dave Bautista) arrives with his three oddly unassuming friends, each bearing odd makeshift weapons out of farming tools. After the family is securely taken hostage, what began as a straightforward home invasion immediately becomes something even more troubling.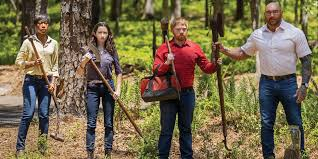 Leonard and his strangely assembled crew are not as sinister as they initially seemed, politely apologizing for the intrusion and cleaning up the resulting mess from their violent break-in. The confusion only deepens for the captive family when the hostage takers passionately reveal their unsettling reason for the invasion. They are convinced an apocalypse is coming that will wipe out humanity and the only way to prevent it is for the family to make an impossible choice. Whether or not this family believes the outlandish claim, time is not on their side and ticks away the fates of all inside the cabin.
"Knock at the Cabin" is based on the 2018 novel by Paul Tremblay, "The Cabin at the End of the World." Ever since M. Night Shyamalan exploded on the scene in 1999 with his iconic work, "The Sixth Sense," he has continued to carve out his niche exploring the supernatural. Along the way, he's made some incredible movies, but he's also responsible for two of worst films in cinema history, "After Earth" and "The Last Airbender." This film, while not as good as "Signs" or "Unbreakable," is not all that far off from those either.
He has his own very distinct filmmaking style that makes the audience immediately aware they're watching an M. Night film, which does have some disadvantages in his case. His calling card has always been his shocking, unpredictable endings he earned after his first handful of movies, but this film doesn't really have that gotcha moment so audiences may walk out disappointed from the unmet expectation. The big reveal is not as impactful as previous movies but is still pretty clever and interesting.
Part of M. Night's style involves creative cinematography to partner with the story to elicit the emotions from the audience he wishes to evoke. In this film, he employs many close-ups and slow, methodical camera movement to ratchet up the tension and suspense that's reminiscent of how he filmed "The Village." Also like "The Village" is M. Night's heavy dose of symbolism that hints of exactly how the story is going to play out if you pay careful attention to the details. M. Night increases the degree of difficulty by filming the entire movie almost exclusively in the confines of the cabin. He makes quite an efficient thriller, packing every scene with necessary information to the plot and eliminating all waste, almost as if he employed Lean Six Sigma to the filmmaking process.
The acting performances were solid from top to bottom. Dave Bautista shows that he has some real acting abilities, beautifully portraying a three dimensional character with more depth than just a brutish, villainous thug. This is the kind of performance that shows he should be cast in a lot more roles than just Drax from "Guardians of the Galaxy." Rupert Grint is another one that will surprise a lot of people with his talent, unless they've watched him in Shyamalan's AppleTV+ series "The Servant." He's come a long way since portraying Ron Weasley in the "Harry Potter" films.
"Knock at the Cabin" is the first release of 2023 that's really worth watching. It's not perfect, but it doesn't waste time, it gets right to the point of the story early and moves very quickly. Those intensely suspenseful moments that Shyamalan is known for are few and far between, but the premise of the story is timely and thought provoking and well played out by a strong cast.
This movie earns: