By Keith Walther | Rose Law Group Reporter
British period pieces tend to fly under the radar and rarely make a lot of money at the box office, and "Emily" is no different. Based on the true story of the rebellious woman who wrote one of the greatest novels of all time comes a film that is dramatic, romantic, tragic, and inspirational. Emma Mackey beautifully embodies the headlining role that will undoubtedly pave the way for the young actress to land future leading parts.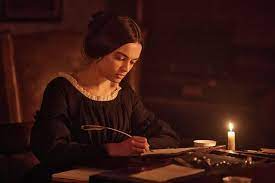 Set in 19th century England comes the tale of Emily Brontë (Emma Mackey) who lived a quiet life with her reverend father Patrick Brontë (Adrian Dunbar), her two sisters Charlotte (Alexandra Dowling) and Anne (Amelia Gething), and her brother Branwell (Fionn Whitehead). Emily was always considered the "stranger" of the Brontë siblings with her wild imagination and disobedient nature. As much as she tried to conform to make her father happy, she couldn't relinquish her need for individuality, embracing a freedom of thought mentality.
When the dashing William Weightman (Oliver Jackson-Cohen) arrives as Patrick's curate in the local parish, Emily refuses to fall for his charm, repeatedly challenging his faith in a brazen fashion. With Emily's refusal to follow her sisters' footsteps to become a teacher, her father charges William with tutoring Emily in French. As they spend more time together, a budding forbidden romance blossoms that threatens to shake the stability of the Brontë family. Tragedy, love, and oppression become the driving force for Emily to pen her one and only novel, "Wuthering Heights."
Relatively new actress Emma Mackey gives "Emily" life with a riveting, emotionally charged performance. After an inconsequential role in her Hollywood big screen debut in last year's "Death on the Nile," Emma clearly demonstrates her ability to be a leading lady and carry a film as she does with this historical portrayal. She successfully crafts a misfit type of character used to isolation who gradually finds her voice when she experiences love for the first time. Mackey is elegantly powerful as she unlocks her character's soul in her writing. This is the kind of breakout performance that hopefully leads to a long and lustrous career.
Oliver Jackson-Cohen, best known for 2020's "The Invisible Man," shows passionate on-screen chemistry with Mackey. He believably demonstrates his character's inner struggle of his love for Emily with his faith and social inappropriateness of being with the reverend's daughter.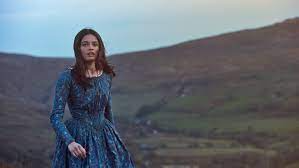 The rest of the supporting cast of the Brontë siblings contribute their own impressive performances. Fionn Whitehead ("Dunkirk") as Emily's brother and confidant does a fine job as the sole element of comic relief while imparting key moments of wisdom to living a bleak life to its fullest. Alexandra Dowling adds that feeling of sibling rivalry as the also famous Charlotte Brontë, who writes a literary classic of her own called "Jane Eyre." Making her film debut is Amelia Gething, who played the youngest Brontë sister, bringing youthful energy to her performance that increases her likability.
Actress Frances O'Connor makes her directorial and writing debut with "Emily," and she does a masterful job of telling the Emily Brontë story with some added flavor. While the character names, settings, and circumstances are all historically accurate, she takes some liberty with some of the events depicted in the movie that didn't actually happen. This doesn't detract from the quality of the movie like it would in most cases. Instead, it lays the foundation for the messaging she wants to impart to the audience, like the societal pressures of entering womanhood in the 1800s, embracing individuality, and most importantly, to love and be loved is the secret to happiness in life.
O'Connor incorporates well detailed, era appropriate set design, lighting, and costumes that enhance the credibility of the scenes. She should also be credited for putting her cast in an excellent position to succeed with her dedication to the dialogue. Her screenplay is very well written, eloquently descriptive but not overstated.
"Emily" is one of those diamonds in the rough, a rare quality drama in the month of February. It's a movie made with heart and passion worthy of your time and money. It's not playing in many theaters, however, so you may have to wait to rent at home.
This movie earns: