By Keith Walther | Rose Law Group Reporter
Disney/Marvel desperately needed a win to start 2023 and rejuvenate a tired franchise. Instead, they get a boring "Star Wars" wannabe that fails to bring this franchise out of the death spiral that began after "Avengers: Endgame." "Ant-Man and the Wasp: Quantumania" is the third film in the series and the 31st film of the MCU (Marvel Cinematic Universe), and it tops them all as being the worst yet.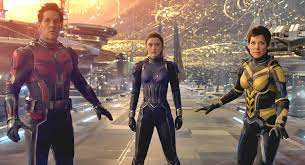 Scott Lang, aka Ant-Man, (Paul Rudd) has been living a much quieter more tranquil life since the events of "Avengers: Endgame." However, his daughter Cassie (Kathryn Newton) is all grown up and has taken a keen interest in the quantum realm. Together with Hope Van Dyne, aka The Wasp, (Evangeline Lilly) and Dr. Hank Pym (Michael Douglas), she creates a device to investigate and map the quantum realm without having to set foot in it. When Cassie reveals her invention to her father and Janet Van Dyne (Michelle Pfeiffer), they understandably worry about the danger involved, both having experienced the quantum realm firsthand.
Their concerns are immediately validated when the device has a "Honey, I Shrunk the Kids" moment and shrinks them all into the quantum realm with seemingly no way to return. They weren't prepared to see that there was an entire civilization of strange beings straight out of central casting from the Cantina on Mos Eisley. They end up smack dab in the middle of a revolution against a tyrant ruler known as Kang The Conqueror (Jonathan Majors), who has been looking to escape the quantum realm for many years destroying countless lives of whoever crosses him. With the arrival of Ant-Man and his old friend Janet, Kang sees the opportunity he's been looking for to escape his exile and will stop at nothing to capture them and force their cooperation.
Peyton Reed, who has directed all of the "Ant-Man" films in the trilogy, makes his first of many mistakes by not having Paul Rudd co-write this screenplay which he did previously, resulting in eye rolling attempts at humorous dialogue that only elicit groans from the audience rather than laughter. This is a death blow in and of itself to a series that has leaned heavily on comedy in its two previous films. Without that protective coat of entertainment, the rest of the film's follies are laid to bear in a more obvious way.
While the visual effects are high quality eye candy, they do little to mask the laziness of the plot. Reed creates a chaotic mess of too many subplots, none of which are sufficiently developed and explained, which prevents the audience from being invested in the characters or outcomes. Like the Cassie character suddenly becoming a teenage scientific genius who also somehow has her own "Ant-Man" suit. Or a technologically advanced ant army appearing out of nowhere, or the reappearance of Corey Stoll as M.O.D.O.K., who was originally killed off as Yellow Jacket in the first "Ant-Man." All of this undermines the believability of this film and comes across as just plain silly, leading to a ridiculous climax.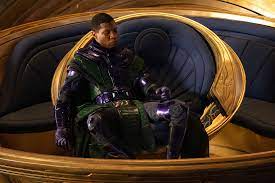 Paul Rudd, Michael Douglas, and Evangeline Lilly provide lackluster performances that diminish their likability within the MCU. In fact, the only thing worse than Lilly's performance was her hair, which made her look more like Paul Rudd's stunt double. Kathryn Newton is now the third actress to play the part of Cassie Lang, and she's the worst by far. She makes no attempt to provide any depth or emotional connection to her character, creating a sense of detachment from the father/daughter relationship that is supposed to be one of the main pillars of this movie.
The saving grace of this film comes from veteran actress Michelle Pfeiffer and Jonathan Majors. Pfeiffer elegantly displays that depth to her character, slowly revealing more of her back story prior to being rescued from the quantum realm in "Ant-Man and the Wasp." She expertly portrays formidability through grace.
Jonathan Majors lights up the screen and explodes into the MCU in a significant way, saving this film from complete disaster. As Marvel's newest supervillain, he delivers an important shot to the arm that provides some semblance of hope for future Marvel films. Majors exudes a quiet power through a stoic demeanor that ensnares the audience's attention and culminates in a truly inspired performance. He makes it quickly evident that his character will be a force to be reckoned with in the future. Jonathan Majors has proven he is a legitimate actor with great range, and it will be exciting to see what he does in his next film, "Creed III," which will be released in March.
While "Ant-Man and the Wasp: Quantumania" is a massive disappointment to kick off Phase 5 of the MCU, it is still worth seeing for Jonathan Majors' performance as the next big supervillain. It may not be the moment to declare a time of death for the MCU just yet, but this film certainly brings it a lot closer. "Guardians of the Galaxy Vol. 3" is next on the docket to revive the ailing franchise, releasing this May.
This movie earns: