Happy New Year!
Maricopa County recently adopted a new logo and colors. This move to a modern, cohesive countywide identity is meant to help Maricopa County create a greater understanding and awareness of all that it does. You'll even see the logo on all County vehicles.
Video clip of Supervisor Galvin's comments on the Brand
Supervisor Galvin's Closing remarks Board of Supervisors Formal
Passing of the Gavel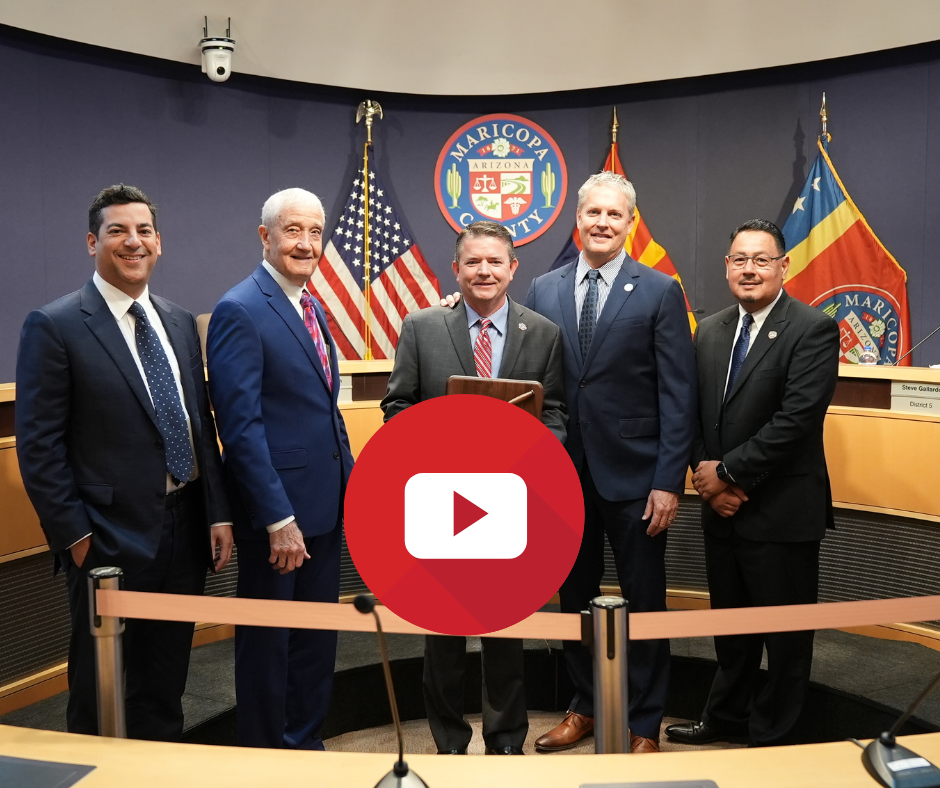 Congratulations to Chairman Clint Hickman. I am grateful to Supervisor Gates for his steadfast leadership throughout 2022.
I want to thank Chairman Hickman for his focus on public safety including the fentanyl crisis that is affecting families throughout Maricopa County.
To hear my full comments at the Board Meeting click on the video link in the picture above.
District Highlights
Gilbert: Swearing-In Ceremony


I was honored to attend the inauguration ceremony of the new council members for the Town of Gilbert earlier this month. I was impressed with the newly renovated Town Hall and enjoyed watching Mayor Bridgette Peterson welcome new council members Chuck Bongiovanni, Bobbi Buchli and Jim Torgeson. Good luck to the new Gilbert Town Council!
Paradise Valley: Swearing-In Ceremony
I enjoyed attending the inauguration ceremony for the Town of Paradise Valley. Mayor Jerry Bien-Willner was re-elected as mayor. Congratulations to the elected Council members, Christine Labelle, Anna Thomasson and Ellen Andeen.
Oak St. Basin & Storm Drain Project
The Maricopa County Flood Control District is addressing flooding concerns near the intersection of Oak Street and Hawes Road. The Oak Street Detention Basin and Storm Drain project will consist of a detention basin at the northeast corner of the intersection and connecting storm drains adjacent/beneath Oak Street and Hawes Road. Flood flows will be directed to the detention basin and ultimately released to the channel at the southeast corner of the intersection. (Click here to see video of a recent flood)
The construction began with salvaging plant materials from the area. Numerous cacti are being moved and stored on site to make way for the construction of the detention basin. These cacti will be replanted later to reclaim the area when the project is finished.The neighbors will be provided advance notice of future activity and all efforts are being made to minimize disruption to the neighborhood during construction.To learn more, visit the project webpage: https://apps.fcd.maricopa.gov/fcdprojects/Details/42 or email Frank Hakari, Project Manager mailto:frank.hakari@maricopa.gov