By Keith Walther | Rose Law Group Reporter
Finally, Florence Pugh has unlocked the potential of her acting ability to provide the best performance of her career. "A Good Person," written and directed by Zach Braff, is a melodrama that tackles some heavy topics like survivor's guilt, opioid addiction, and forgiveness. While it won't attract large audiences because it lacks explosive action or adrenaline pumping horror, it is still a must see film.
Allison (Florence Pugh) is a successful young woman, happily engaged to the love of her life, Nathan (Chinaza Uche). Her picturesque life completely unravels when she gets in a horrific car accident that leaves two dead and herself badly injured.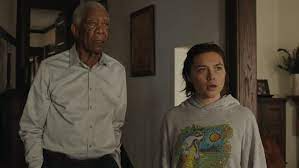 One year later, Allison may have physically recovered, but mentally and emotionally she is still deeply scarred, wracked with guilt over the trauma she inflicted on another family. Having lost her job and her fiancé, Allison has moved in with her mom, Diane (Molly Shannon), struggling like so many Americans with addiction to OxyContin. As she tries to rebuild her life, she crosses paths with Daniel (Morgan Freeman), who happens to be the father of the woman who perished in the accident and has always blamed Allison for causing the tragedy. Despite the animosity, Daniel extends the olive branch to help this young woman try to overcome her addiction and face incredibly difficult truths. In the process, he must face down his own personal demons in hopes they can both find forgiveness.
Writer/director Zach Braff crafts an important, emotionally driven story of tragedy, addiction, and redemption with "A Good Person." Most known for his acting in the hit TV show, "Scrubs," Braff is also an accomplished filmmaker as evidenced by his first project, 2004's "Garden State." He once again makes a movie that will hit close to home for many, shining a light on America's opioid epidemic that was instigated by pharmaceutical companies like Purdue Pharma. While "A Good Person" may be a fictional story, it couldn't feel any more real with a scenario that has likely played out countless times in actuality.
In between heart wrenching scenes that leave the audience in a puddle, Braff balances the film beautifully with timely comedy that allows for an emotional reprieve. He also layers the story with a hidden backstory and sublot, slowly peeling it back for integral revelations that invest the audience in two characters. The additional subplot of a grandfather having to suddenly raise a teenage girl is amusing, but also creates touching and relatable moments.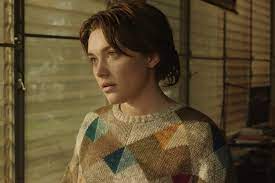 Since receiving her first and only Oscar nomination for 2019's "Little Women," Florence Pugh has toiled in mediocrity with films like "Black Widow" and the on-set dumpster fire of "Don't Worry Darling." Occupying most of the scenes in "A Good Person," Pugh excels, providing a memorable, gut-wrenching performance. She realistically portrays the slippery slope of addiction along with the ups and downs of recovery, skillfully pulling the audience with her on the emotional roller coaster that allows for a better understanding of her character. This could be the start of something special for Florence with two major productions coming later this year, "Oppenheimer" and "Dune: Part Two."
Part of Pugh's success can be attributed to her veteran co-star Morgan Freeman, who speaks his lines with focused intention, making the audience hang on every word. Freeman is a consummate professional who always seems to elevate his co-stars to another level. He fully embodies his character's backstory of a recovering alcoholic ex-cop with an old school mentality that clashes with the younger generation. Freeman shows once again that he hasn't lost a step, he's still a master at his craft.
Saturday Night Live alum Molly Shannon gets to stretch her legs a bit in the drama genre. She does not have a big role, but It's an important one, showing how easy it is for a parent to unwittingly enable addiction.
"A Good Person" is a good movie, propelled by an outstanding performance from Florence Pugh. It is a tearjerker from start to finish with source material a lot of people would rather avoid, much like "The Son" from a few months ago. It may not be as impactful as Hulu's "Dopesick," but it's a compelling story that will pull at your heart.
This movie earns: