By Keith Walther | Rose Law Group Reporter
ENIT, which is the Italian State Tourist Board, gets to save some marketing money this year. "Book Club: The Next Chapter" should have gone straight to the Travel Channel, as it is more a presentation of Italy's romantic beauty and history than it is an actual movie. While it is ironically light on story, audiences do get to enjoy magical vistas from Rome to Venice to Tuscany.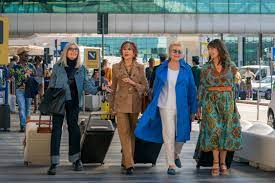 After Covid shut things down for a while, Vivian (Jane Fonda), Diane (Diane Keaton), Sharon (Candice Bergen), and Carol (Mary Steenburgen) reunite and realize that time is not on their side for adventure. When Vivian breaks the news that she's engaged to Arthur (Don Johnson), the aging friends figure this is the perfect opportunity to take a girl's trip to Italy. As the ladies explore the scenic countryside of Italy, good and bad surprises await them that will make this trip unforgettable.
"Book Club: The Next Chapter" is the sequel to 2018's $100 million success and features much of the same cast and writer/director from the first film. Bill Holderman, who co-wrote and directed the first production, returns with more of the same, a dialogue driven movie that relies on sexual innuendo jokes ad nauseum. The storyline may be overly simplistic and entirely predictable, but fans of the first film (aka older women) will likely be satisfied with the formulaic plot dressed up in an Italian mise-en-scène. It does have a positive overarching message to live life to its fullest, regardless of age.
Holderman dazzles the audience with big camera shots of Italian panoramas, which will entice viewers to book their Italian vacation straight away. One particular scene was filmed on the famous Spanish steps in Rome, which also happened to be the backdrop for a scene in "Fast X" when a giant spherical bomb was thundering down those stairs obliterating everything in its path. If only there was a crossover moment between the productions, it could have created a memorable, random moment of hilarity that could have elevated both films…oh well.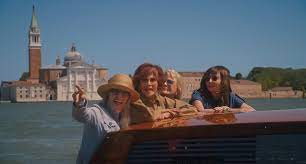 This is already the third film Jane Fonda has starred in this past year, making the 85-year-old one of the hardest working actresses out there. Her performance is solid, albeit one-dimensional, as the predictably unsure bride to be who's more committed to her independence than she is a relationship. Diane Keaton has also been hard at work, starring in her second film so far this year. Thankfully, this is an upgrade for both Fonda and Keaton from "80 For Brady" and "Maybe I Do" respectively, which are two of the year's worst films.
The real scene stealer is Candice Bergen, whose dry wit and sarcastic humor create some entertaining moments. The "Murphy Brown" star shows she still has that snappy comedic delivery, setting up her co-stars with funny rejoinders.
Also reprising their roles in this sequel are Mary Steenburgen, Don Johnson, Andy Garcia, and Craig T. Nelson, who are good to see on the big screen but offer nothing of substance to the story. Veteran Italian actor Giancarlo Giannini is a welcome sight and provides a charismatic performance in the small but impactful role as the Italian police chief.
"Book Club: The Next Chapter" acts as advocate to visit Italy much in the same way "80 For Brady" is an NFL propaganda film, both of which happen to use veteran actresses to appeal to the older generation of women. The humor and scenery try to cover up the lack of a compelling story, making it watchable, but nothing more than that. Hopefully, "Book Club: The Next Chapter" will be the final chapter.
This movie earns: