By Keith Walther | Rose Law Group Reporter
From the warped mind of Stephen King comes "The Boogeyman," a horror film that feeds on childhood nightmares. This is a production that exceeds expectations across the board, providing audiences with some heart pounding thrills that are sure to satisfy the most diehard of horror junkies. While it is a monster movie that doesn't stray from genre conventions, it has enough of a riveting story enhanced by surprising performances to make it a rewarding film experience.
After the sudden death of their mother, Sadie (Sophie Thatcher) and Sawyer Harper (Vivien Lyra Blair) are trying to cope with the tragedy and continue their lives. Will Harper (Chris Messina) is a good psychiatrist and the young girls' father, doing his best to keep the family together and work through this difficult time. When a new patient by the name of Lester Billings (David Dastmalchian) comes to him for help, the family's already disrupted lives become upended even further.
Lester describes how his children were taken from him by a monstrous entity that stays in the shadows and feeds on fear. Easily dismissed as an improbable story from a sick man who was more likely the murderer of his own children, the Harpers try to forget his ravings, but little do they realize the evil entity has now attached itself to them and it's getting hungry.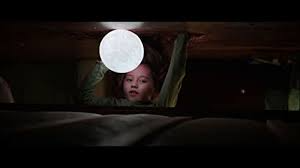 "The Boogeyman" was originally meant to be released straight to Hulu, but it tested so positively with audiences that 20th Century Studios decided on a theatrical release instead. This is largely attributed to the work of director Rob Savage, who relies on the fear of the unknown to enhance the suspense in this movie. He achieves this primarily using lighting technique and sound. There are these delightfully hair-raising moments, especially in early scenes with an odd noise sounding in the darkness where the light is too far away to penetrate that allows the audience to imagine the potential horror that lurks within those shadows. This technique is nothing new, but when done correctly as it is in this production, it's so much better at inducing fear than a blood and guts display that so many modern horror films employ. Savage finds his own creativity and artistry in this style, utilizing various forms of light to battle the darkness like a glowing moon orb, or flickering flame, or the unnerving blinking of Christmas lights.
The film isn't without its flaws. When the director finally reveals the monster, the weak CGI makes it seem more like a failed castoff from the "Stranger Things" set, which dramatically diminishes the momentum of terror that Savage worked so hard to create. Then there's the improbability of the monster seemingly appearing out of thin air in one house when it was just previously in another location with no explanation as to how it got there. This would make sense if it was depicted as more of an apparition, but it is very clearly a corporeal being that cannot move through walls.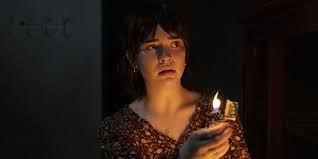 Young actresses Sophie Thatcher and Vivien Lyra Blair carry the cast with authentic performances that show wonderful depth to their characters. Sophie expertly portrays the quiet, sullen grief of loss bubbling just beneath the surface mixed with the stubborn, know-it-all attitude of a typical teenage girl. Meanwhile, Vivien is wonderfully endearing as the younger, charismatic sister whose reactions come across genuinely. Ironically, both young actresses have recently made a name for themselves in different "Star Wars" streaming series. Sophie was most recently in "The Book of Boba Fett," while Vivien starred in "Obi-Wan Kenobi." If "The Boogeyman" is an indication of their budding talent, then they both have promising careers ahead of them.
Overall, "The Boogeyman" is an unexpected surprise with a methodical ramp up of tension and suspense, tantalizing jump scares, and solid acting. As everyone scrambles to see "Spider-Man: Across the Spider Verse," this is a worthy secondary option that will have you looking under the bed and in the closet before you fall asleep at night.
This movie earns: