By Keith Walther | Rose Law Group Reporter
Based on the true story of stand-up comic Bert Kreischer's time in Russia, "The Machine" has some great moments of hilarity but little else. Weak acting, poorly written dialogue, and awkwardly cheesy story inclusions derail an otherwise fun movie experience.
20 years ago, Bert (Bert Kreischer) had the opportunity to study abroad in Russia with his class. The events of that trip led him to have an illustrious career as a stand-up comic, known for recounting his wild encounters with the Russian mafia while shirtless. He became known as The Machine because of his ability to drink copious amounts of vodka while entertaining the Russian criminals with '90's pop culture references. The past has a way of resurfacing, however, especially when it involves a train robbery.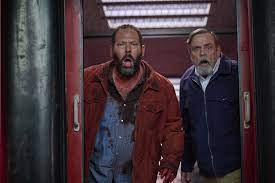 When Irina (Iva Babic) shows up on his doorstep, Bert, and his very critical father Albert (Mark Hamill) are quickly abducted and transported back to Russia to find and return a family heirloom that was taken during that train robbery all those years ago. Chaos and violent gun battles erupt from St. Petersburg to Moscow as competing factions within the mob vie for the rewards retrieving this heirloom will surely provide. In order to succeed and keep himself and his father alive, Bert must become The Machine one more time.
Bert Kreischer is a funny comic who knows how to entertain his audiences, but that doesn't always translate into good movies, right Dane Cook? Kreischer has some shining, laugh-out-loud moments throughout this film, primarily when he employs physical comedy. Unfortunately, the dialogue is shoddy, and he simply doesn't have the talent to overcome or sell his lines, making the other moments fall flat. Stick to stand-up Bert.
Having Luke Skywalker play Bert's father is a nice touch, but Mark Hamill is no acting savant either, unless he's doing voiceover work. He's actually one of the best voice actors in the business as evidenced by his portrayal of the Joker in Batman animated productions and video games. Hamill does provide some amusing scenes with his line deliveries, but it's not enough to counteract the silly storyline. The rest of the supporting cast is amateurish at best, struggling too much with their Russian accents to offer any depth into their actual characters.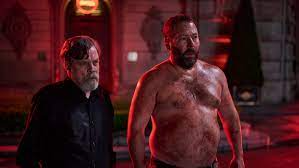 "The Machine" is the first film Peter Atencio has directed since the mildly successful "Keanu" in 2016. With both films it's clear his talent lies at choreographing slapstick comedy scenes and is not as adept at moving a story to a satisfactory conclusion. Atencio tries and fails to incorporate heartfelt messages, culminating in a ridiculously horrid ending that only succeeds in eye rolling cringes from the audience. One moment, there's a hilarious fight scene in which Bert has his fist stuck in a bad guy's throat, and the next there's a weak, campy attempt to build on the father/son relationship that immediately kills the mood. Understanding the film's identity is paramount to achieving commercial success, and Atencio clearly confuses that identity. He would have been better off embracing the story as an over-the-top action comedy from start to finish, meant simply to entertain much in the same vein as "Deadpool."
"The Machine" ultimately fails to live up to its humorous potential, shooting itself in its foot with mushy dialogue, stereotypical, one-dimensional Russian gangsters, and a trainwreck of an ending. There are some good laughs to be had, but they are few and far between. "The Machine" is only worthy of a home rental at best.
This movie earns: