SAN TAN VALLEY TOWN HALLS
JUNE 27 & JUNE 29
Town Hall Session 1
Tuesday, June 27, 6:00pm
CAC San Tan Campus -3736 E Bella Vista Rd
Town Hall Session 2
Thursday, June 29, 6:00pm
Combs Performing Arts Center – 2505 E Germann Rd
Our office recently distributed a survey to San Tan Valley residents asking for feedback on what they would like to see for the future of our Community. The survey addressed various topics, such as incorporation, economic development, transportation, and more. We will be hosting town halls in June to go over these survey results, and take a deeper dive into topics our residents care about most. We will be leveraging a new, more interactive format to make these sessions more engaging.
The Town Hall will be held on two separate evenings to accommodate schedules and ensure as many people can attend as possible. The same material will be covered both nights. Door prizes are being donated and will be given to the first 25 attendees in each session. Please join us for this unique and interactive community meeting, we look forward to seeing you there!
PACK THE BUS
SCHOOL SUPPLY DRIVE!
WE NEED YOUR HELP
NOW – JULY 1
Our office recently identified several hundred students in San Tan Valley that will need assistance for this upcoming school year. We have partnered with Pan De Vida to help make this drive a success!
Let's rally around our community and help these families start the school year off on the right foot!
Will you help us pack the bus?!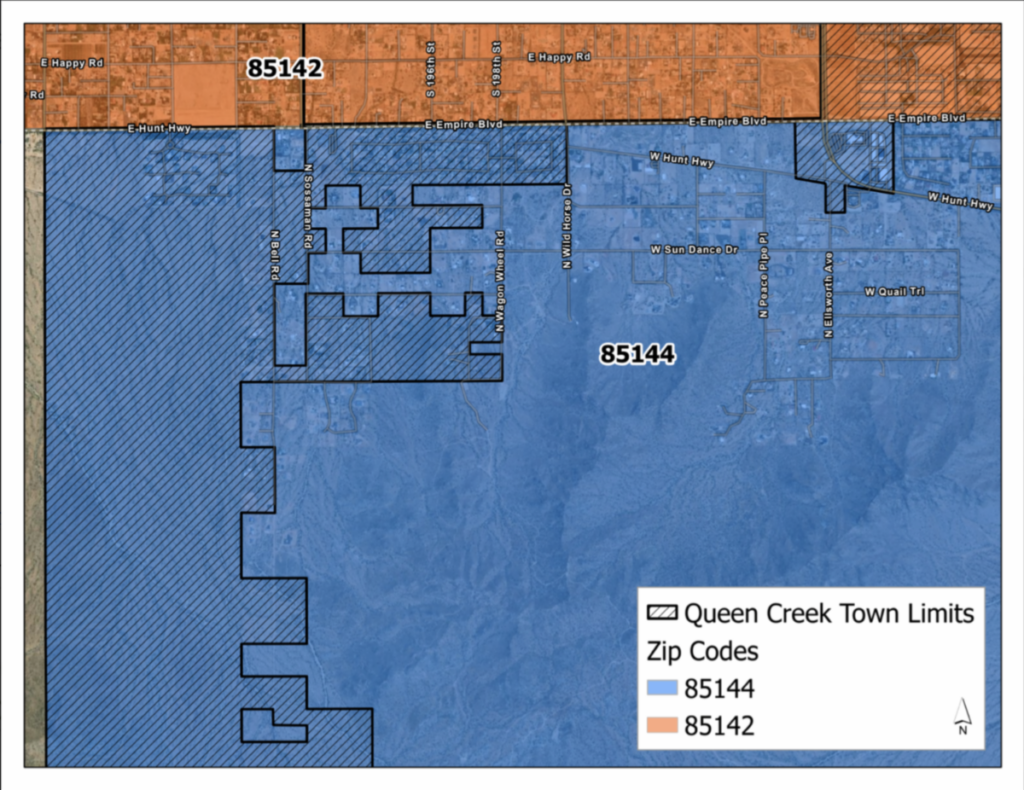 NEW 85144 ZIP CODE
The U.S. Postal Service recently announced a new ZIP code coming to the San Tan Valley and Queen Creek area. The new 85144 ZIP code will encompass the area south of Empire Boulevard, west of Gary Road and north of Arizona Farms Road.
The new ZIP code will take effect on July 1, 2023.
It is important that you begin using your new Zip Code on the effective date. To make this change as easy as possible for you, the Postal Service will ensure delivery of your mail with the old Zip Code for a period of one year. Remember when purchasing new return address labels or stationary, be sure to use your new Zip Code.
If you have any questions concerning your address, please contact The Postal Service Ams Office at 602.225.3460.
I pay property taxes

so why aren't more roads being built?!
One of the questions / comments our office hears most.
Did you know that in Pinal County your property taxes do not pay for roads.
Property taxes pay for things like school districts and general government operations but not roads.
In Pinal County, roads are only funded through Federal and state grants, state-shared revenues of the Highway-Use Revenue Fund (also known as HURF), vehicle license taxes, and half-cent transportation excise tax (pothole tax)
For more information about our half-cent transportation excise tax please visit:
www.preservingpinal.com
DISTRICT 2
TRANSPORTATION PROJECTS
Want to view additional information about road projects in Pinal County?
We now offer enhanced project tracking resources on new construction, road maintenance, roadwork, and programs through an online tool.
https://cleargov.com/arizona/pinal/county/projects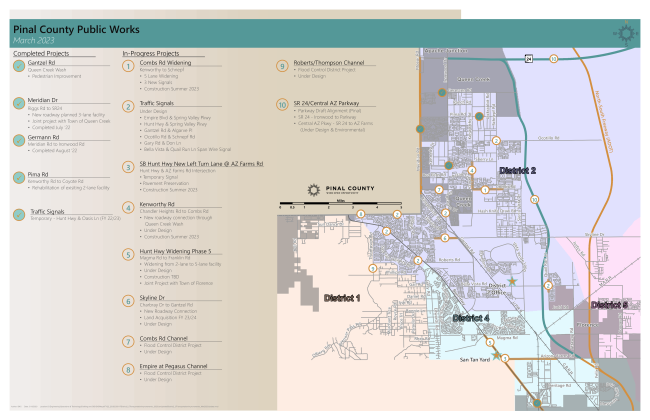 TRANSPORTATION UPDATE
CENTRAL ARIZONA PARKWAY
The main concern from residents in our survey was transportation. As such we would like to highlight a potential project that would have a tremendous impact on our community.
While ADOT continues development on the North-South Corridor to the East, Pinal County is also in partnership with ADOT and Queen Creek in development of the Central Arizona Parkway. This parkway is intended to be the main corridor from San Tan Valley to State Route 24. Both of these corridors will be essential for regional mobility in the future. The Parkway, a new 4-lane facility (ultimately 8-lanes), would come from the west side of the canal, veer off SR24, and follow the canal to Skyline, with an end goal of connecting all the way to Arizona Farms Rd. With the growth we are experiencing, projects like this are crucial to support our goal of being the best place to live, work and play. 
The County made the decision long ago to not increase property taxes for the funding of new roads. Instead, we have leveraged resources like Highway User Revenue Funds, which are distributed across all of AZ, and more specifically to our County, Prop 400 – the "pothole tax," which was passed 40 years ago. This tax is up for renewal next year, and we hope residents will vote to keep this going so we can continue with the Parkway project and others.
TRAFFIC SIGNALS
Gantzel & Painted Desert / Algarve – This is the new traffic signal construction on Gantzel Rd & Painted Desert Dr/Algarve Pl. The contractor is starting work on Tuesday May 30th and most of the work will be completed by the end of August. Signal equipment has been delayed quite a bit lately so there is a chance the signal may not be operational until the end of the year but most of the work that would affect traffic should be completed in August.
There will be alternating lane closures that will affect traffic.
Combs and Schnepf – We are nearing the completion of the design of a widening project on Combs Rd that will widen Combs Rd to five lanes from Kenworthy Rd to just east of Schnepf Rd as well as add traffic signals at the Combs and Kenworthy, Combs and Wales Ranch Parkway (new development) and Combs and Schnepf intersections.
We are hoping to start the construction of this project in the early fall. There will be a sidewalk connection to Archer Meadows on the east side of Schnepf as well as on the south side of Combs Rd. At this time we aren't planning to use a temporary signal as we are hoping to start construction in a few months .
 
Our office loves to hear from the community!
If there is something you would like to discuss with Supervisor Goodman please reach out anytime – we'd be more than happy to schedule an appointment.
Office Phone: 520-866-8080
SUMMER HOURS FOR IN OFFICE APPOINTMENTS ARE TUESDAY / THURSDAY 8 AM – 4 PM
Supervisor Mike Goodman | mike.goodman@pinal.gov
Ashley Taylor, Assistant to BOS | ashley.taylor@pinal.gov
Haylie Studebaker, District Administrator| haylie.studebaker@pinal.gov
Kimberly Carroll, Admin. Assist |kimberly.carroll@pinal.gov