By Storage Cafe
After the vows have been exchanged, the toasts made and the cake enjoyed, are newlyweds ready for the next step? All you need is love, as The Beatles said, but newlyweds also need a nest.
Which places around the US are best positioned to say "I Do!" when welcoming young couples? The answer could easily be Scottsdale!
StorageCafe analyzed data from the largest cities with a population of over 200K in order to help newlyweds choose the best location for their new home. The rankings were based on 15 metrics covering key aspects related to a city's potential to support married life, including the economic landscape, local housing availability and costs, access to a like-minded social crowd, and community amenities*.
According to our research, Scottsdale ranks 4th on our list of the best US cities for newlyweds and stands out for its high percentage of married population, strong job market, thriving entertainment scene, and lots of opportunities for outdoor activities.
If you think this might be an interesting topic for your readers, here are some other quick facts:
Scottsdale has the nation's second-highest housing inventory per capita, with over 0.6 housing units available for each resident, as well as cheap living costs, with an average electricity bill of approximately $186 and one of the nation's lowest gas prices at $3.50 per gallon.
Millennials in Scottsdale bring home an average household income exceeding $100K/year. Moreover, the city holds plenty of job options for young professionals, boasting a low unemployment rate of 2.5%.
Scottsdale takes the lead when it comes to amusement and recreation opportunities, boasting an impressive 0.6 venues per 1,000 people while also offering a vibrant dining scene with 2.6 restaurants per 1,000 people for memorable date nights.
The city also ranks well for sports and leisure options, with hiking (9 miles of natural trails/10K people) and swimming (0.2 swimming pools/10K people).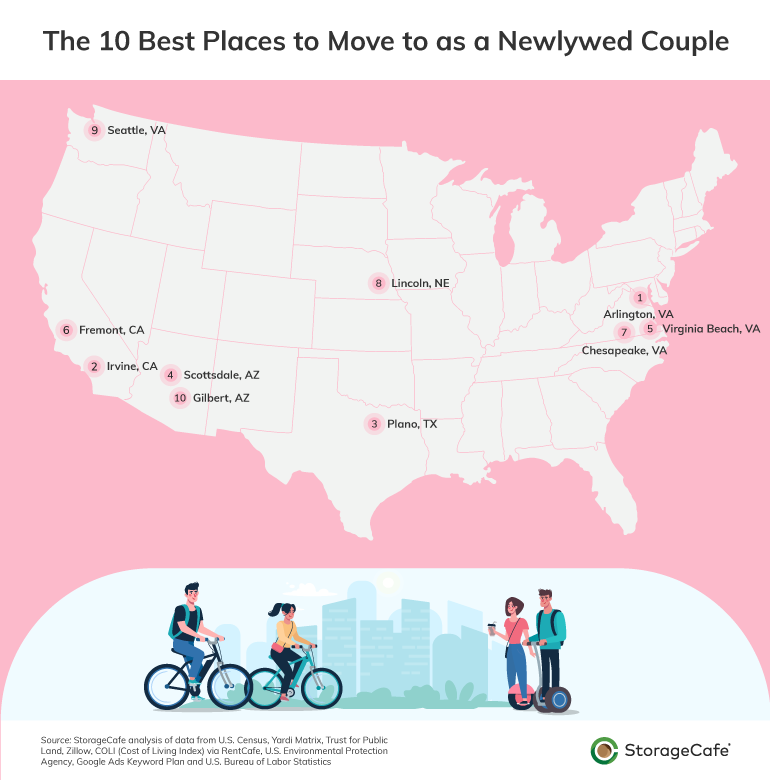 You can read the complete study, along with expert opinions on the greatest destinations for newlyweds in the U.S., here: https://www.storagecafe.com/blog/best-cities-for-newlyweds/