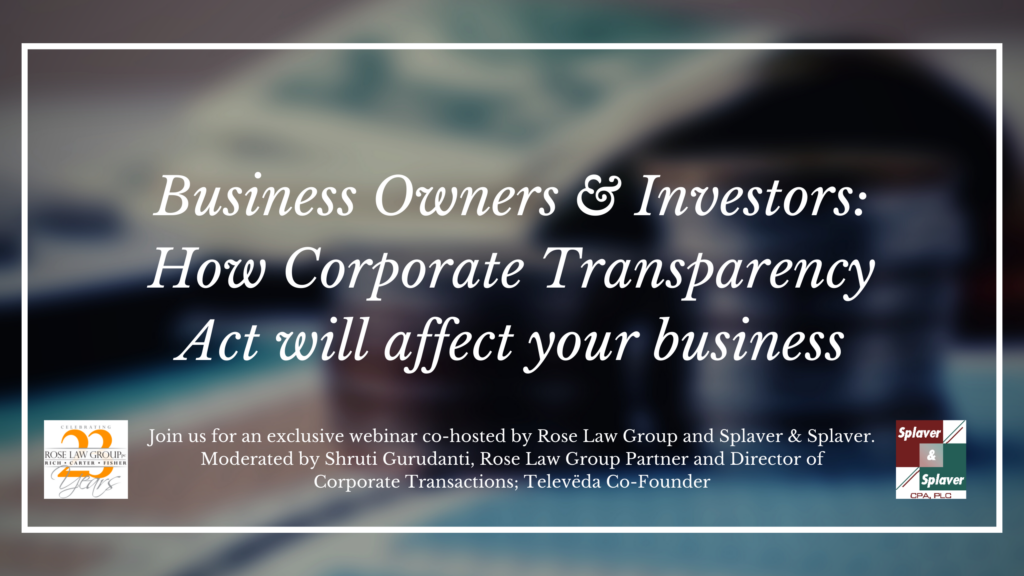 Calling all business owners, investors, LLC, Corporations, etc. with less than 20 employees!
The clock is ticking, and an essential new law is on the horizon, poised to directly influence your business. On January 1, 2024, a game-changing reporting requirement comes into effect, necessitating most businesses to report details of the owners holding more than 25% in the business, or who otherwise exercise substantial control over it.
This is the first session in a series of presentations, with this first session focusing on all small businesses (industry agnostic). Future presentations will focus on specific industries such as, for example, Cannabis, Real Estate, etc.
Join us for an urgent and informative session where we unpack the implications of this new law and provide you with actionable steps to ensure compliance.
Learn which types of businesses fall under its scope
Uncover any potential exemptions that might apply to your enterprise
Understand the new reporting process & unique obligations of the reporting entity/individual
Outline of the extensive details that need to be disclosed
Timeline for compliance
When: August 29th at 12:00 pm – 1:00 pm
Where: Zoom or in person at Rose Law Group
7144 E. Stetson Dr., Suite 300,
Scottsdale, AZ 85251
Must register with the link below to attend! In person seating is limited. If you are interested in joining us for this catered lunch and learn, please contact Angelica Van Balen at avanbalen@roselawgroup.com to reserve your spot.
Register here:
https://us02web.zoom.us/webinar/register/WN_11Qyb5ECQ2myIXJf3riEEw