By Keith Walther | Rose Law Group Reporter
Denzel Washington notches a few more cool points under his belt, carrying this finale to a satisfying conclusion. With the first two films of the trilogy being mediocre and forgettable, "The Equalizer 3" is not much better but it isn't worse either. This is a typical action film featuring explosively violent and gory sequences with an A+ actor and basic story.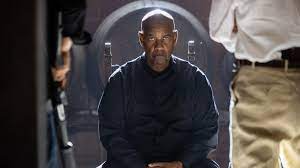 After suffering a grievous gunshot wound from a mission in Sicily, retired special services commando Robert McCall (Denzel Washington) slowly recovers in the isolated coastal town of Altomonte. As he convalesces in this picturesque town, he becomes enamored with the welcoming and generous people. So, when the local mafia puts the squeeze on these simple town folk, McCall finds himself in the role of a protector.
Enlisting the help of CIA agent Emma Collins (Dakota Fanning) to follow the path of the drugs and money to its source, McCall uses his skill set to violently intervene on behalf of the victimized locals. When dealing with these villainous mafiosos, he employs a scorched earth policy, leaving behind a trail of bodies that John Wick would envy.
There's no doubt about it, the nearly 70-year-old Oscar winner Denzel Washington once again makes an otherwise unimaginative movie worth watching. His deadpan line delivery as he explains to the bad guys what he's about to do them while maintaining a calm, ice cold death stare is nothing short of spine tingling and will make the audience chuckle at his coolness with the impending violence he's about to visit upon the unwitting criminals. In fact, Denzel's portrayal of this character, especially in this movie, will remind audiences of the Jack Reacher character from the Lee Child novels. His next project looks to be Ridley Scott's sequel to the outstanding film, "Gladiator."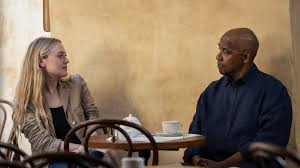 Dakota Fanning is reunited with Denzel for the first time since 2004's "Man on Fire." Now, Fanning is all grown up, providing a solid complimentary performance that reminds audiences she still knows how to act. She will next be starring in "The Watchers," which is being directed by budding filmmaker Ishana Shyamalan (M. Night's daughter).
"The Equalizer 3" is the fifth collaboration between director Antoine Fuqua and Denzel Washington as his lead actor, which has proven to be his smartest decision as a filmmaker. There is zero creativity in this storyline and very minimal character development with much of Fuqua's focus being on the action sequences. This does yield some exciting, well-choreographed scenes that increase the entertainment value and distract viewers from the mundane plot. However, the ease with which the scumbags are dispatched, and their lack of development does dull the filmgoing experience a bit. Ironically, there just fails to be a worthy enemy equal to Denzel's overpowered character.
"The Equalizer 3" may be simplistic and mind numbing, but the creative action scenes and buildup to action, having one of the all-time great actors in the lead makes for passable entertainment. Important to note, it's not necessary to watch the previous two movies, it works just fine as a standalone film. As long as you limit your expectations, you won't be disappointed.
This movie earns: