Dear Community Member –
We believe that a strong and vibrant community is built on active participation and collaboration of its members. We invite you to join us in making a positive impact through getting involved.
As an example, there have recently been issues with trash being dumped in the parking lot of our San Tan Valley Home Depot. Our office and a group of residents gathered early one morning and worked to clean up the area. Small efforts like these collectively make a big difference. We invite all community members to participate in influencing positive change.
There are numerous ways you can get involved:
· Volunteer Opportunities and Community Projects: We regularly organize or participate in volunteer events and initiatives that address community needs. Whether it's helping with local clean-up efforts, adopting a section of our roadways, organizing food drives, or supporting community events, your time and skills can make a significant impact.
· Advocacy and Outreach: If you are passionate about specific community issues, we invite you to raise awareness, advocate for change, and ensure our collective voice is heard.
· Community Events and Gatherings: Attending community events and gatherings is a fantastic way to connect with your neighbors, build relationships, and contribute to our community's social fabric.
If you're interested in getting involved or learning more about our community initiatives, please don't hesitate to reach out to us. We look forward to working alongside you in creating a stronger community.
Below are several opportunities where we welcome your involvement. Thank you and God Bless.
COMMUNITY EVENTS
Public Meetings for the North South Corridor Study  Click here to learn more.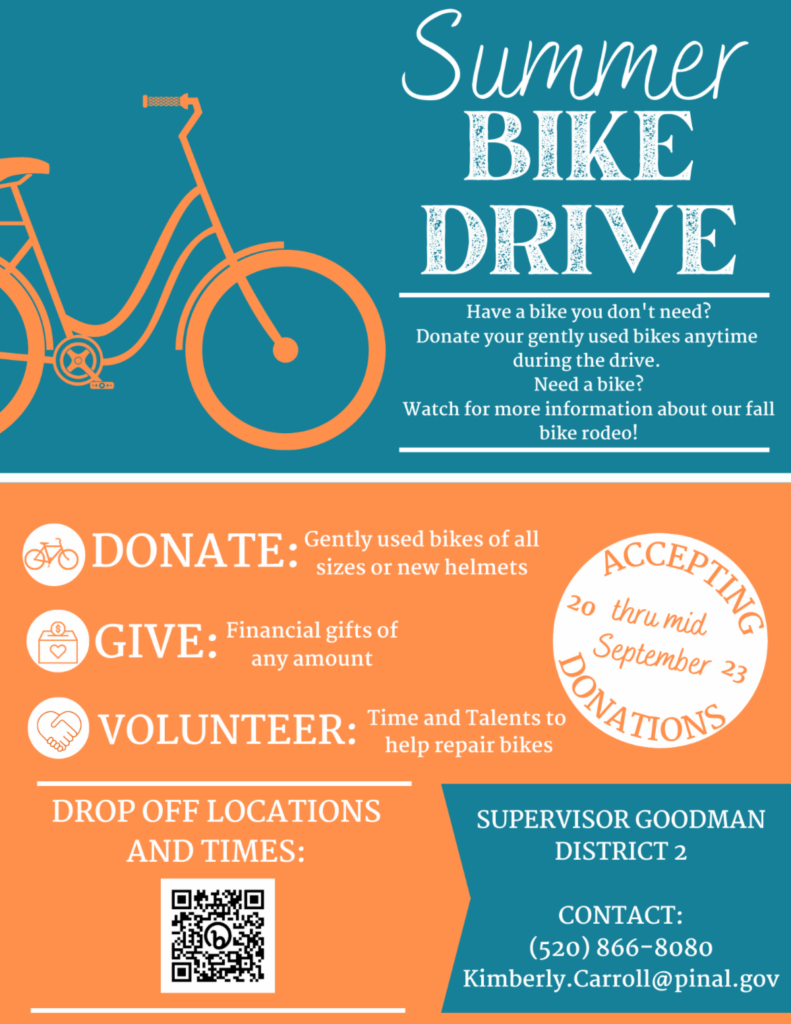 Have a bike you no longer need? Donate gently used bikes anytime through the month of September. Our office is partnering with The Bike Shop, San Tan Shredders, BMX, PCSO, Wal-Mart, Quick Quack, Home Depot, and local volunteers to make all necessary repairs to get these bikes ready for their new home. Help someone in need. All bike donations will go back to our community members. Watch for more information about our upcoming Bike Safety Rodeo on November 4th. Donations can be brought to our office: 31505 N. Schnepf Road, STV Questions – please call 520-866-8080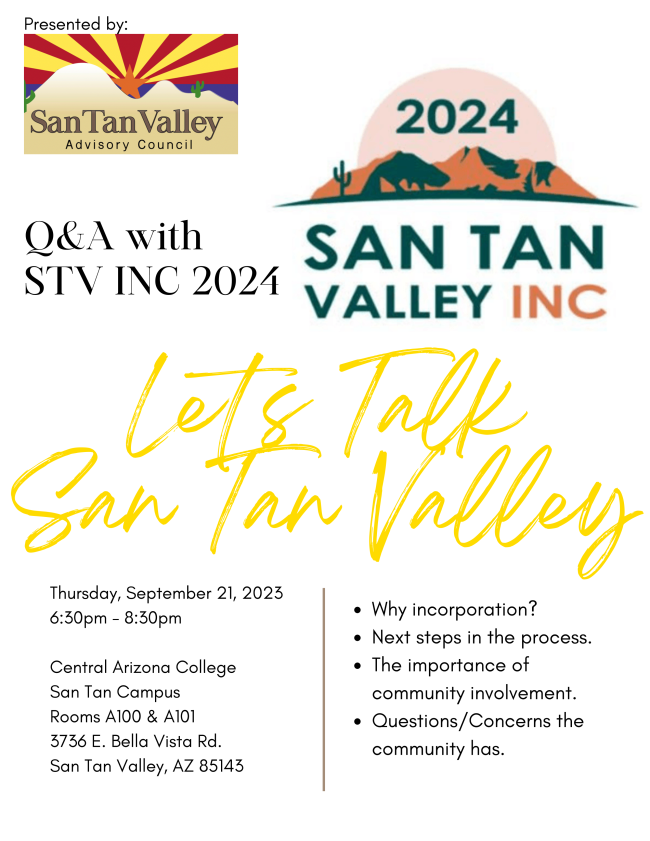 Let's Talk San Tan Valley 
Thursday Sept. 216:30 pm
Central AZ College 
The San Tan Valley Advisory Council is hosting a Q&A with the STV INC 2024 group that is leading the current incorporation effort. Additional details can be found on the flyer as well as by visiting their website below. MORE INFORMATION HERE!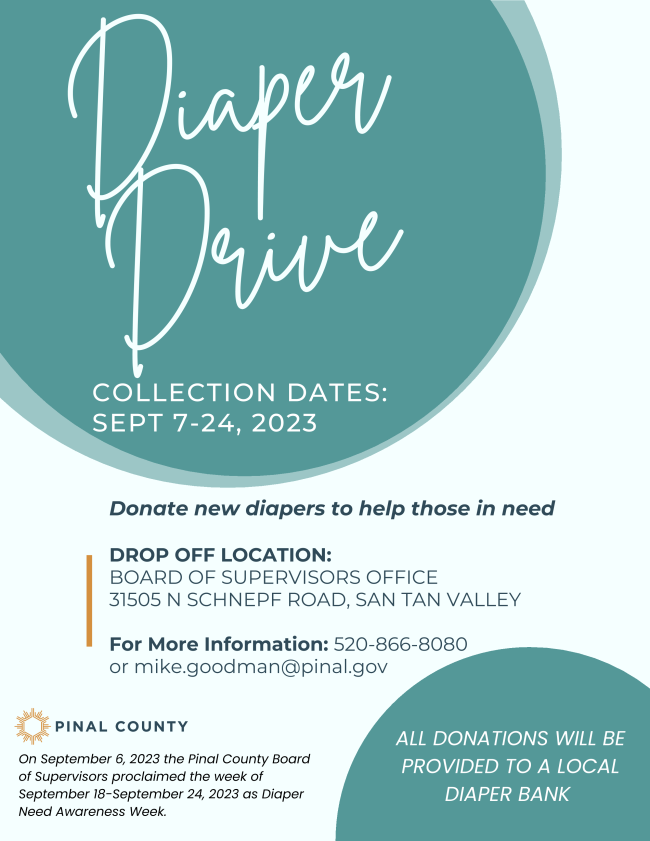 PINAL COUNTY DIAPER DRIVE – WE NEED YOUR HELP 
NOW – SEPT 24 
On September 6th the Pinal County Board of Supervisors proclaimed the week of September 18-24, 2023 as Diaper Need Awareness Week, and as a result have decided to pull together a quick diaper drive to help those in need. If you or your organization would like to make a donation please feel free to bring them by our STV office or reach out and we can coordinate a pickup.  MORE INFORMATION HERE!
DISTRICT 2 TRANSPORTATION PROJECTS
Want to view additional information about road projects in Pinal County? We now offer enhanced project tracking resources on new construction, road maintenance, roadwork, and programs through an online tool. https://cleargov.com/arizona/pinal/county/projects
I pay property taxes
so why aren't more roads being built?!
One of the questions / comments our office hears most.
Did you know that in Pinal County your property taxes do not pay for roads.
Property taxes pay for things like school districts and general government operations but not roads.
In Pinal County, roads are only funded through Federal and state grants, state-shared revenues of the Highway-Use Revenue Fund (also known as HURF), vehicle license taxes, and half-cent transportation excise tax (pothole tax)
For more information about our half-cent transportation excise tax please visit:
Our office loves to hear from the community!
If there is something you would like to discuss with Supervisor Goodman please reach out anytime – we'd be more than happy to schedule an appointment.
Office Phone: 520-866-8080
Supervisor Mike Goodman | mike.goodman@pinal.gov
Ashley Taylor, Assistant to BOS | ashley.taylor@pinal.gov
Haylie Studebaker, District Administrator | haylie.studebaker@pinal.gov
Kimberly Carroll, Admin. Assist | kimberly.carroll@pinal.gov
Was This Message Forwarded to You?
To have our newsletter delivered directly to your inbox subscribe below!