By Keith Walther | Rose Law Group Reporter
As one of the holiday blockbusters to be released this month, this action/adventure falls a little short to deliver that memorable, entertaining thrill ride audiences have come to expect with this series. "The Hunger Games: The Ballad of Songbirds & Snakes" is the prequel, also adapted from the Suzanne Collins novel of the same name, to the original "Hunger Games" movies. While the adaptation is mostly fair and on point, the novel is the weakest of the four, lending itself to a less compelling motion picture.
Decades before he becomes the tyrannical President of Panem, Coriolanus Snow (Tom Blyth) was an impoverished young man of the capital, desperately trying to earn favor and change his outlook for the better. Attempting to destroy Snow's chances at winning the top money prize for graduates, Dean Highbottom (Peter Dinklage) assigns him as the mentor of a petite girl from District 12 with no hopes for winning the 10th Hunger Games.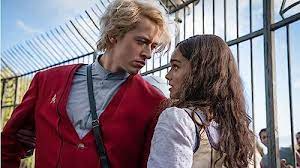 Lucy Gray (Rachel Zegler) may be slight and unimposing, but her singing voice and attitude is powerful. Earning the attention of the Hunger Games overseer, Dr. Volumnia Gaul (Viola Davis), with his progressive ideas to make this more of a spectacle to gain higher viewership, Snow gains tactical advantages as her protégé. This puts him in a better position to help Lucy survive and gain her affection. Risking his entire future, he will cross any line he needs to in order to protect the young lady for which he is smitten. If caught, it could lead to a fate worse than death.
Employing the same director from the last three "Hunger Games" movies helps to protect the integrity and continuity of this universe. Francis Lawrence does a remarkable job of making the audience feel they are back in the world of Panem, while also showing it in a prior, less sophisticated state. A Hunger Games arena that is very basic, drones that malfunction easily while performing simple delivery tasks, and the capital citizens' styles being much more muted than the flamboyantly colorful display depicted in the original movies are all meticulous details Lawrence uses to transport his audience back in time.
What he fails to recapture is the magic of those prior films. Those movies focused on the emotionally powerful character of Katniss Everdeen, played brilliantly by Jennifer Lawrence, which not only harnessed viewers' attention, but also their emotional investment. This film focuses on the gradual transformation of a protagonist into the despised antagonist everyone knows him to be. This is reminiscent of the prequel "Star Wars" trilogy that showed Anakin Skywalker's conversion from jedi to Darth Vader. While this is certainly interesting to learn about the characters' past to show why they evolved the way that they did, it doesn't yield the emotional attachment needed for a great film. Without that attachment, the movie feels overly long at over two and a half hours, while also feeling overly rushed. There's basically two movies in one, the movie leading up to and including the Hunger Games themselves, and the other movie being the aftermath and fallout. It's like Lawrence realized how much time it took to get to the latter, so he rushed through the remaining plot points to hastily conclude the story, leaving audiences somewhat confused about the sudden left turn.
The acting was superb with Rachel Zegler being the big scene stealer. Her charisma is through the roof and her voice magical. This is only her second role since her impressive introduction two years ago in Spielberg's remake of "West Side Story." Her grounded and raw approach to this part makes her likeable and relatable with vocal talents that silence a room in awe.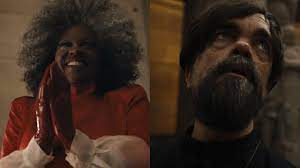 Co-star Tom Blyth provides a solid performance as the would-be tyrant, internally struggling over the conflict of his lofty ambitions with his growing feelings for the lowly district girl. The only thing lacking with his performance was the chemistry with Rachel as it lacked believability.
A supporting cast that features the likes of Peter Dinklage and Viola Davis is a nice luxury to have, and these two do not disappoint. Viola Davis showcases outstanding versatility in her portrayal of the sinisterly intelligent antagonist, almost like a mad scientist. Her commanding on-screen presence is riveting, making the audience hang on to her every word. Dinklage supplies masterful depth as a character with barely contained hatred towards the main character, almost knowing the evil power monger he will soon enough become. He adds insightful wisdom and regret over what his character has created, masking this pain with copious amounts of alcohol.
Overall, fans of the previous films and books should be satisfied with this product, but it's nothing they'll be jumping for joy about. "The Hunger Games: The Ballad of Songbirds & Snakes" is a bit of a misfire as a prequel blockbuster, but with some memorable performances that'll make you take notice.
This movie earns: