A supporter of the Arizona Free Elections Act raises a fist in solidarity as organizers addressed the media on July 7, 2022, near the state Capitol. The initiative measure would make sweeping changes to Arizona's election and campaign finance laws if voters approve it. Photo by Jim Small /Arizona Mirror
Arizona is 'ground zero for election suppression,' spurring the proposed ballot measure
By Jim Small /Arizona Mirror
Supporters of a sweeping effort to overhaul Arizona's election and campaign finance laws filed more than 475,000 signatures on Thursday in hopes of qualifying for the November ballot.
"This is what democracy looks like!" bellowed Roy Tatum, the political director for Our Voice Our Vote, as he and other volunteers and supporters of the Arizona Fair Elections Act stood in the blazing summer sun just outside the shadow of the state Capitol to celebrate turning in more than twice the number of signatures needed to qualify for the ballot.
RELATED: Campaign kicks off for Prop. 308 to guarantee in-state tuition for undocumented high school grads
To qualify for the November ballot, initiative efforts had until July 7 to submit petitions with at least 237,645 signatures from registered voters.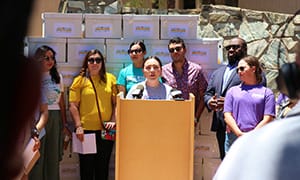 Tatum and other speakers made the same point over and over again: Nothing less than the future of democracy in Arizona is at stake.
The initiative measure, dubbed the Arizona Fair Elections Act, would make major changes to election law aimed at safeguarding the right to vote, outlawing unofficial election audits, bolstering citizen initiatives and referendums, expanding the state's public campaign finance system and limiting the influence wealthy donors have on campaigns.
"This is totally a direct response to the Legislature," said Maria Teresa Mabry, the co-executive director of the Arizona Democracy Resource Center, one of the organizations that spearheaded the initiative effort.