By Mike Sunnucks | Rose Law Group Reporter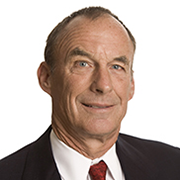 Bennett Dorrance, a founding member of the DMB Associates real estate development firm in Phoenix, is retiring from his post on the Campbell Soup Company's board of directors.
Dorrance is the grandson of Campbell Soup's founder Dr. John T. Dorrance. He is one of the wealthiest persons in Arizona, according to Forbes and other affluence rankings.
He served on Campbell's board for 33 years.
"Since joining the Board, Bennett has helped to grow and protect Campbell's legacy and guide management through many chapters," said Keith McLoughlin, chair of the board in a release. "On behalf of Campbell and my fellow board members, we thank him for his many contributions to the company and wish him and his family the very best in his retirement."
Dorrance will be succeeded on the board by his son Bennett Dorrance Jr., 51.
The younger Dorrance is managing director for the DFE Trust Company and vice president of the Dorrance Family Foundation.
McLoughlin said, "We are excited to welcome Bennett to the Campbell Board. Like his father, Bennett has a deep appreciation of Campbell's history and passion for the business. His expertise in sustainability and entrepreneurship will be an asset to the Board."