By Keith Walther | Rose Law Group Reporter
Combining a whodunit murder mystery with witty, comedic dialogue, "See How They Run" invokes the spirit of 1985's "Clue." While it may be inspired by real life people and the initial stage production of "The Mousetrap," this is not based on a true story. It's a parody that also incorporates hidden nuggets to pay homage to Agatha Christie, and will give audiences a fun, enjoyable ride.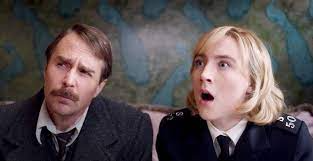 Set in the West End of London during the early 1950's, "The Mousetrap" has become a very successful play to the point that work has begun on a film adaptation. Everything grinds to a sudden halt, however, when an integral member of the crew is brutally murdered in the theater where the play is showing. The drunken veteran Inspector Stoppard (Sam Rockwell) along with the eager rookie Constable Stalker (Saiorse Ronan), who self-admittedly jumps to conclusions, are ironically assigned to solve the sordid affair that follows a similar pattern depicted in the stage production.
As the investigation navigates through the pool of suspects, an increasing number of possible motives are uncovered that make it difficult for the inspector and constable to eliminate any suspects from the list. Despite a murderer among them, the show must go on, which may lead to a larger body count and more questions than answers.
"See How They Run" features an incredible cast with two Oscar winners, Sam Rockwell ("Three Billboards Outside Ebbing, Missouri") and Adrien Brody ("The Pianist"), along with 4-time Oscar nominee, Saiorse Ronan. Rockwell does an outstanding job portraying his disheveled, war weary character, alternating between states of drunkenness to being hungover with moments of clarity to help him solve this murderous caper. He's one of the more talented actors in Hollywood with such a wide range, allowing him to believably play just about any character, including a divorced English inspector with a penchant for intoxication.
Saiorse Ronan, born in the Bronx, NY but growing up in Ireland, is the most prominent young actress as evidenced by already having 4 Oscar nominations under the age of 30. Record holder Meryl Streep only had one nomination by the age of 30. She brilliantly plays the over-enthusiastic constable who may lack experience with investigating major crimes but makes up for with steadfast dedication and energy. This role showcases her comedic prowess as her character is hilariously quick to pass judgment, immediately pointing her finger at anyone to which the clues and motives seem to align.
Adrien Brody has had his ups and downs as an actor but could always be counted on to deliver a professional performance. He delivers here as the abrasive Hollywood director looking to completely change the play to make it more appealing to film audiences. Brody successfully and comically portrays an unlikable and arrogant character, offending just about every other character with which he interacts.
Director Tom George creates a self-aware film that is quick to poke fun at itself with "See How They Run." This is part of its charm, though, not taking itself too seriously and understanding that audiences have seen these types of whodunit films frequently enough to become accustomed to their formula. George sticks to the formula and makes no attempt to deceive his audience, leading to a predictable outcome. He can get away with this because his primary goal is to entertain, which he accomplishes.
Most surprising was the high-level quality of cinematography George employed throughout the film. The creative camera shots and angles helped with the flow and continuity of the story and should not go unappreciated.
Simply put, "See How They Run" is purely entertaining. While it may target older audiences, anyone who appreciates and has patience for a slow burn with cleverly written, quick witted dialogue and a talented ensemble cast will enjoy this film.
This movie earns: