A video board displays Gov. Katie Hobbs' message of unity at a public swearing in ceremony on Jan. 5, 2023. Photo by Jerod MacDonald-Evoy || Arizona Mirror
By Caitlin Sievers, Gloria Rebecca Gomez & Jerod MacDonald – Evoy
On a chilly, cloud-covered Thursday morning at the Arizona Capitol, hundreds of wellwishers and spectators gathered to watch the ceremonial swearing in of the state's newly elected top officials, including Democratic Gov. Katie Hobbs.
The theme of the morning, at least for several of the speakers and incoming Democratic officials, was a commitment to leaving behind divisive rhetoric and working across the aisle to get things accomplished.
"Your voice and the voices of your fellow citizens were heard loud and clear," Hobbs said during her inauguration speech. "You rejected those who seek to divide us, to build a better Arizona for everyone."
Officials and lawmakers don't have much choice but to work together if they want to pass legislation, with Republicans in control of the state Legislature and Hobbs in the governor's seat with a veto pen.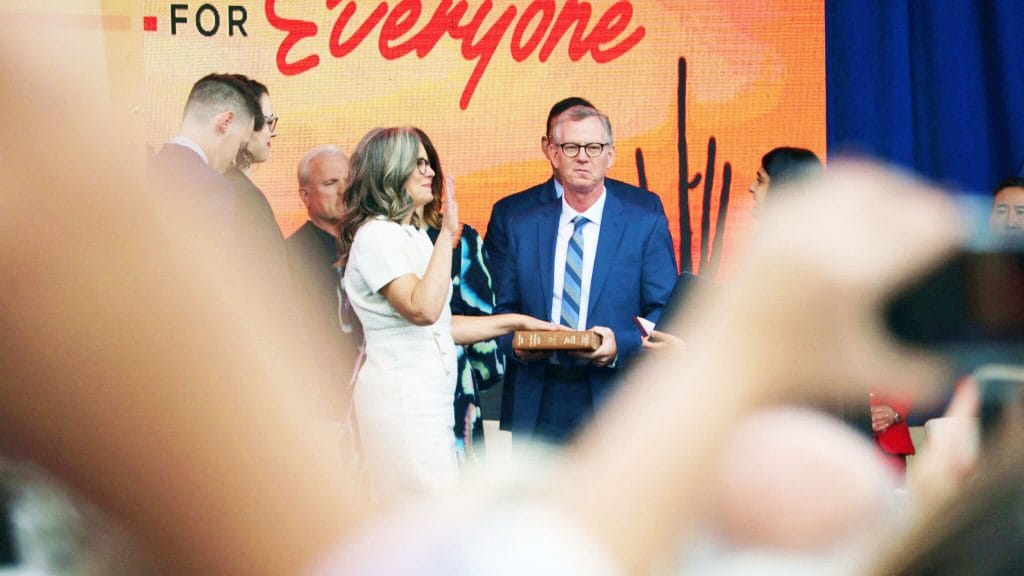 Hobbs' Republican opponent, Kari Lake, a Trump-endorsed 2020 election denier, has still not conceded, even though she lost by more than 17,000 votes. In December, Lake lost a lawsuit challenging the outcome of the election that she claims was stolen from her. Last week, she appealed that decision.
"Katie Hobbs knows when she took her oath that she stole the election," Lake told former Donald Trump advisor Steve Bannon on his online talk show Thursday morning.
A small group of pro-Lake protesters could be heard shouting the words "criminal" and "traitor" at Hobbs from outside the Capitol grounds during the ceremony.