What do you get when you combine a horribly written script with talentless directing and bafflingly bad acting? The answer is "Maybe I Do," a painfully terrible romantic comedy that inspires couples to question their partner as to why they brought them to such a waste of time. Thankfully, it was only 95 minutes of eye torture.
Allen (Luke Bracey) is hesitant to enter the ultimate commitment of marriage with his longtime girlfriend Michelle (Emma Roberts) as demonstrated early in the movie when they're at a wedding reception and he ridiculously throws himself across the room to intercept the bride's bouquet before it could reach Michelle's outstretched hands. That scene acts like a warning sign to the audience flashing in bright neon, "we just stole your money, enjoy the rest of this brain damaging stupidity."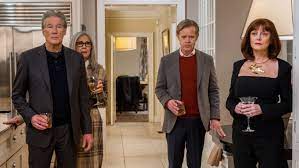 When Michelle predictably gives Allen an ultimatum to either propose or take a hike, they turn to their parents for marital advice. Michelle's parents, Howard (Richard Gere) and Grace (Diane Keaton), suggest a dinner party to finally meet Allen's parents, Sam (William H. Macy) and Monica (Susan Sarandon). The catch is the parents already know each other, having previously randomly met in secret rendezvous without realizing their kids were dating each other. The ensuing get-together heightens the absurdity of the premise and culminates in cringe worthy awkwardness.
Michael Jacobs writes and directs "Maybe I Do," so he deserves most of the blame for this dumpster fire of a film, failing spectacularly at both jobs. He over-writes the dialogue with flowery language, not comprehending that people don't actually communicate this way, leading to unrelatable conversations between actors who are just saying the words without being invested and truly interacting with each other. Jacobs films the scenes like a bad sitcom, including pregnant pauses after sad comedic exchange attempts between the actors. All that was missing was the canned laughter from a studio audience. This is his first film as a director and hopefully his last.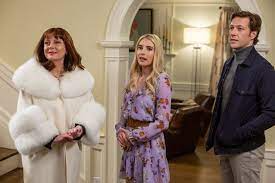 Boasting a cast predominantly of 70+ year olds adorned with all kinds of acting awards, "Maybe I Do" misleads the audience into thinking the film will be pure entertainment with these veteran stars. Instead, the audience gets to witness overly theatrical acting from Diane Keaton and Susan Sarandon, both of whom are a distant memory of what they once were, and the worst performance of Richard Gere's illustrious career.
To make matters worse, the two younger stars Luke Bracey and Emma Roberts exhibit zero chemistry together, undermining the already weak premise. Emma's biggest claim to fame is being Julia Roberts' niece. It's just a shame she inherited her acting talents from her father instead, Eric Roberts.
If there's a bright spot of the movie, it's William H. Macy who still knows how to get into character, make it his own, and deliver his lines on point and with purpose. It's shameful that the scene stealing star of "Shameless" is wasted on something so poorly written as this.
As January comes to a merciful end, "Maybe I Do" will most certainly go down as an early contender for worst film of the year. The good news is that February couldn't possibly get any worse for films, can it?
This movie earns: