By Keith Walther | Rose Law Group Reporter
The second movie release of 2023 isn't much better than the first. "Plane" is as unoriginal as it sounds, a typical Gerard Butler driven action flick that should've gone straight to streaming. However, there are a couple of bright spots worth mentioning.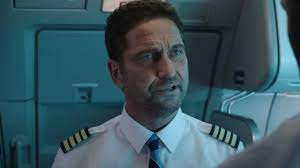 Captain Brodie Torrance (Gerard Butler) is a pilot flying a commercial airline from Singapore to Tokyo. The New Year's Day flight is relatively empty, carrying only 14 passengers, one of which happens to be a prisoner, Louis Gaspare (Mike Colter), who is accused of murder. Things get dicey in a hurry when the plane is struck by lightning as it attempts to navigate through a turbulent storm.
Forced to make an improbable emergency landing on a remote island in the south Philippines, Brodie sets off with Louis, who was freed from his bonds, to locate some form of help or ability to communicate with his airline in hopes of rescue for the survivors. As luck would have it, they happened to land on a lawless island controlled by criminals and bloodthirsty militia who quickly take the remaining passengers as hostage. It's up to Captain Brodie and his new bestie, the accused murderer, to infiltrate the compound of a small army and free the hostages without getting taken or killed themselves.
French director Jean-Francois Richet clearly doesn't concern himself with accuracy or even the storyline as evidenced by the multitude of mistakes and plot holes riddled throughout the film. For instance, after some heavy turbulence, the pilot comes out of the cockpit to check on the passengers which simply doesn't happen in a post-9/11 world. Or after landing on the remote island, the passengers are shown using their smartphones to take videos but they act like they don't know where they are located, which is wrong because smartphones can receive GPS coordinates without having cell service. These are just a couple of the more glaring errors that occur in the movie and doesn't even speak to the predictability and ridiculousness of the story's premise or sheer lack of character development.
That being said, this is an action movie, so the story is secondary to the action sequences. This is where Richet shines. He increases the degree of difficulty with some of the action scenes by using continuous shots. The first fight scene in the movie is a great example of this type of cinematography and is exquisitely executed in one long take, which is a hard thing to accomplish especially with a high intensity fight scene like that. This provides some satisfyingly thrilling moments for the audience.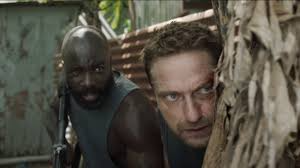 Gerard Butler is a one-trick pony type of actor who seems to play the exact same guy in every action film he stars. There's something reassuring about knowing exactly what to expect from him in these movies, but it's also quite boring and it might be time to relegate him directly to streaming, especially since his last really good movie was "300" in 2006.
For the most part, the supporting cast is painfully bad and does nothing to help increase the entertainment value. They are all one-dimensional, stereotypical characters devoid of depth, except for Mike Colter. He's the other bright spot in this film. The star of Marvel's TV series "Luke Cage" and Paramount's "Evil" outshines Gerard Butler in every scene, giving his character a mysterious backstory that makes him more interesting and leads the audience to wanting more. He attacks his scenes with more intention, lending to the credibility of his character.
"Plane" is a run-of-the-mill, brainless action movie that puts as much effort into the story as it does the title. Despite clever cinematography and Colter's scene stealing performance, it's another January release not worth the time or money. Use the spare time to catch up on the Oscar contenders instead.
This movie earns: