By Keith Walther | Rose Law Group Reporter
Leave it to the NFL to find a way for shameless self-promotion with their poster boy Tom Brady leading up to the Super Bowl. "80 for Brady" is an NFL propaganda comedy targeting middle aged to older ladies in an effort to show them they can enjoy football too, it's not just for men. The problem is they neglected to incorporate a decent story or humor; in fact the writing is downright atrocious.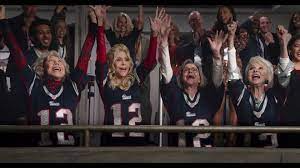 Inspired by a true story, "80 for Brady" follows four lifelong friends who are diehard New England Patriots fans, but more specifically, Tom Brady fans. When Tom Brady played his first NFL game in 2001, Lou (Lily Tomlin) was battling cancer and Brady's fast rise to stardom coincided with her overcoming the horrible disease. It became a cohesive moment with her best friends, Trish (Jane Fonda), Betty (Sally Field), and Maura (Rita Moreno), as they supported Lou in her fight, watching and cheering Tom Brady every week together.
As the years rolled on, the four aging women, realizing their diminishing mortality, make a desperate plan to attend Super Bowl LI to see their hero play in the big game. As they make their journey, a series of hijinks and chaotically silly events transpire to sensationalize an otherwise bland story of four old ladies going to the Super Bowl.
While "80 for Brady" claims to be based on a true story, almost everything depicted in the movie did not actually happen so don't be deceived. This is the directorial debut for Kyle Marvin and like other first time directors in the early stages of 2023, he was clearly in over his head and couldn't direct his way out of a paper bag. He uses a paint by number approach with awkward transitions from scene to scene. Even though Marvin isn't responsible for the poorly written screenplay, he certainly does not do anything to enhance the credibility of the story. For the final 15 to 20 minutes of the movie, he departs the story altogether to show highlights of Super Bowl LI and inserting quick clips of the four ladies cheering.
Employing a cast of four leading ladies who have all either won an Oscar or been nominated in their illustrious careers is completely wasted here. These are four veteran actresses who are all at the stage in their career where they need a well written screenplay. Not even the real life friendship and on-screen dynamic Lily Tomlin and Jane Fonda share can rescue the boringly drab and cheesy dialogue. To top it off, having Guy Fieri play an integral role in the film is a recipe for disaster. The best part of the film is when he's referred to as a hot Cheeto.
Whether it's a scene of Sally Field preposterously winning a hot wings competition or Rob Gronkowski wearing a pervy grin to an awkward sexual innuendo from Jane Fonda, there is little to be redeemed in "80 for Brady." The only thing you can expect from this humorless movie is eye strain from the sheer amount of eye rolling at the seemingly endless stream of stupidity.
This movie earns: