By Keith Walther | Rose Law Group Reporter
Writer/director Guy Ritchie returns to the espionage genre with a completely unoriginal film that has been done many times before and done much better. "Operation Fortune: Ruse de guerre" is a deceitfully creative and voluminous title that yields nothing but simplicity and duplication. While there are redeeming qualities to be had from the cast, the storyline leaves a lot to be desired.
When a deadly weapons technology gets hijacked, British super spy Orson Fortune (Jason Statham) is called into action to track it down and deal with the culprits. Nathan (Cary Elwes) assembles a team of operatives to help Orson, including tech expert Sarah (Aubrey Plaza) and combat specialist JJ (Bugzy Malone). When they learn the notorious billionaire arms dealer Greg Simmonds (Hugh Grant) is directly involved, Orson comes up with a not so innovative way to infiltrate his inner circle.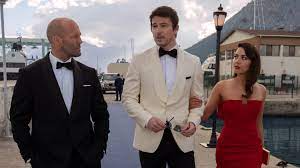 This is where Hollywood's biggest movie star, Danny Francesco (Josh Hartnett), enters the fray. He's unhappily recruited to use the arms dealer's super fandom of Danny to gain unfettered access to his heavily guarded compound. Orson and his unit are competing with another team, however, who have mysterious motives of their own that could potentially sabotage the mission.
After bursting on the scene in 1998 with "Lock, Stock and Two Smoking Barrels," followed by "Snatch" two years later, filmmaker Guy Ritchie has experienced his fair share of success, but he also knows his way around failure as evidenced by "Swept Away" and "King Arthur: Legend of the Sword." "Operation Fortune: Ruse de guerre" falls into the latter category unfortunately with Guy Ritchie lazily crafting something that at times tries to be the next James Bond and at other times the next "Ocean's Eleven." What he ends up with is a run of the mill spy/action movie devoid of identity.
"Operation Fortune" is a perfect example of a writer/director simply going through the motions, carelessly mimicking other films in the genre. For example, his use of a movie star being used to gain a criminal's trust which then evolves into a comical friendship was the exact plot of last year's "The Unbearable Weight of Massive Talent." Ritchie's unimaginative and thoughtless approach extends into the technical aspects of the film.
The action/fight scenes were downright boring with Jason Statham's character easily dispatching waves of enemies without so much as a scratch. Without instilling that fear of potential harm to the protagonist, there is no suspense and the outcomes are mundane and obvious. Ritchie makes even more head scratching decisions with the sound effects, making the actors constantly sound like they're on a conference call or PA system throughout the movie, which was unnecessary and distracting. Then he adds silly, non-believable action sequences like Aubrey Plaza's character (who is not a weapon expert mind you) leaning out of a spinning car, aimlessly shooting her gun but perfectly connecting, sending the bad guys careening off a cliff. John Wick called, and he wants his scene back.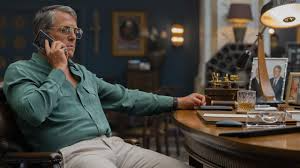 Luckily for Guy Ritchie, his cast saves this film from being one of the worst of the year. Aubrey Plaza, coming off her critically acclaimed performance in "Emily the Criminal," is a naturally comedic actress whose witty sarcasm is a wonderful reprieve from the monotony of this action film. She almost makes fun of this script relating to the audience in a way that suggests she understands what they're having to watch.
Hugh Grant is the other noticeable bright spot in this film. His enigmatic portrayal of an arms dealer adds a layer of complexity and mystery to an otherwise very ordinary role. His charm and smooth line delivery leads to scene stealing moments that add entertaining value to the movie. Audiences can look forward to seeing Hugh again at the end of this month in "Dungeons & Dragons: Honor Among Thieves."
This film marks the fifth collaboration between Guy Ritchie and Jason Statham. Statham plays the same British, no nonsense, rough around the edges anti-hero that he does in almost all his movies. It is refreshing to see Cary Elwes and Josh Hartnett in significant parts. Elwes even gives a subtle nod in an early scene to his most iconic role from "The Princess Bride."
"Operation Fortune: Ruse de guerre" is an unoriginal waste of time and a major disappointment for fans of Guy Ritchie's films. Simply put, audiences should care about this movie as much as Guy Ritchie cared about making it.
This movie earns: