By Keith Walther | Rose Law Group Reporter
Typically, horror franchises rarely produce much in the way of quality sequels, but "Scream VI" proves to be the exception. Ghostface has become an iconic horror villain, carving up young adults since 1996 and he/she still has what it takes to deliver the scares. "Scream VI" is surprisingly able to ratchet up the terror and tension, giving audiences those heart pounding, adrenaline inducing moments one more time.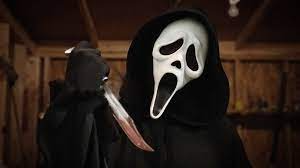 Six months after the horrific events in Woodsboro, the four survivors, Sam (Melissa Barrera) and Tara Carpenter (Jenna Ortega), and Mindy (Jasmin Savoy Brown) and Chad Meeks-Martin (Mason Gooding), have left the cursed town to pursue their college education in the city that never sleeps, New York. Unfortunately, their past follows them along with a new Ghostface, who's as brutal as ever, quickly dropping bodies en route to the ultimate target of Sam Carpenter.
Covering the story of course is none other than Gale Weathers (Courteney Cox), who has somehow survived every Ghostface to date. Detective Bailey (Dermot Mulroney) is on the case along with the familiar face of Kirby Reed (Hayden Panettiere), another Ghostface survivor from years past who is now an FBI agent. The survivors will need all the help they can get, but as history has proven, they can only trust themselves because the new Ghostface killer could be anybody and nowhere is safe.
Having a "Scream" cast without Neve Campbell is a shame, and the reason for her absence in this newest sequel is even more disappointing. Paramount refused to meet her salary requirements despite the incredible value she has brought to this franchise. Her character's absence is weakly explained away that she's decided to stay away and hide out in safety with loved ones. This leaves Courteney Cox as the only legacy member to appear in all 6 films, and while she carries the burden of nostalgia well enough, David Arquette and Neve are sorely missed.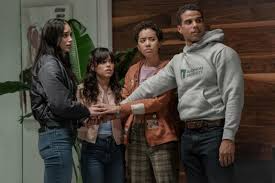 "Scream VI" features a rather large cast, which means a higher body count, but also means limited character development. There were a couple of standout performances from the leading ladies, Melissa Barrera and Jenna Ortega. Ortega, whose star has shot up since last year's "Scream" from her portrayal of Wednesday Addams in the smash hit Netflix series, provides a relatable performance as the stubborn younger sister. She's quickly carving out a niche for herself in the horror genre, having appeared in these last two "Scream" movies as well as "X." Meanwhile, Barrera shows she's more than capable of leading a film as the protective, level-headed sister with a dark side. Both women create compelling characters that invest the audience in their well-being.
Directors Matt Bettinelli-Olpin and Tyler Gillett pay homage to past "Scream" films, rewarding fans of the franchise with numerous references throughout this sequel. They respectfully honor tradition started in the original "Scream," like the creepy phone calls with that sinister voice or frenetic chase scenes to raise the audience's heart rates. While the film may be rife in the familiar, these two directors elevate their game to bring enough creativity to generate gloriously surprising elements that keep the audience on the edge of their seat.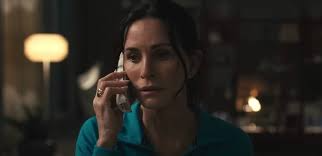 Moving the franchise out of the fictional small town of Woodsboro to the bustling metropolis of New York City is a welcome change of scenery, and the directors use the chaos of the city to their advantage to enhance the realism and suspense. Instead of lurking in the shadows waiting to isolate the intended victims, they make Ghostface much more audacious, following the targets into a busy bodega or a densely crowded subway and creating memorable, hair-raising scenes. The flickering subway lights bathing the car in and out of darkness was an especially nice touch that dramatically increases anxiety. Even the beginning of the movie starts similarly to prior iterations, but then takes a wicked left turn that tells the audience very early on that they are in for a new type of "Scream" slasher.
The inseparable directors of last year's "Scream" and the highly entertaining "Ready or Not" in 2019 have unquestionably surpassed their fifth installment of the franchise with "Scream 6," but it's not without its flaws. The ridiculousness of the gruesome stab wounds being inflicted on various characters, only to see them seemingly shake it off moments later with little to no limits on mobility requires a suspension of reality. In addition, the big "Scooby Doo" type of reveal at the end is a letdown and the climax fizzles on an otherwise highly entertaining movie.
"Scream VI" is a reinvigoration and reimagination of this celebrated horror franchise. Everything is bigger in this sequel, the jump scares, the violence and gore, and the body count. While it's not a must to see all of the previous five films (they do a good job of cleverly summarizing prior events), it is highly recommended to at least watch the fifth movie to gain more clarity and background on all of the characters that return as well as key story elements.
This movie earns: