By Keith Walther | Rose Law Group Reporter
Those teenage heroes in multi-colored spandex have returned, no, not the Power Rangers. "Shazam! Fury of the Gods" is the follow-up to 2019's surprising box office success. It not only brings back the entire cast, but it also recaptures the goofy, comedic nature of its predecessor.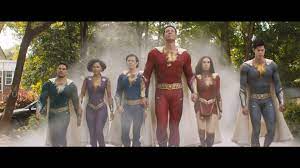 Billy Batson (Asher Angel) is almost 18 years old now, dealing with the prospect of adulthood while still learning to integrate his new godlike powers granted to him by the Wizard (Djimon Hounsou). As Shazam (Zachary Levi), Billy may have a man's body, but he retains his teenage mind. Having bestowed these same powers to his foster siblings, Billy also bears the weight of being the leader, and he struggles to keep the superhero team together as Mary (Grace Caroline Currey) is looking to go away to college and Freddy (Jack Dylan Grazer) finds a high school love interest. Dubbed the Philadelphia Fiascos, the teenage super team is not doing so well in the realm of public opinion either, clumsily saving lives but failing to prevent massive destruction in and around the city.
To top it off, arriving in murderous fashion are the Daughters of Atlas, who are not happy their powers were stolen and given to a bunch of immature teens. Kalypso (Lucy Liu) and Anthea (Rachel Zegler) led by Hespera (Helen Mirren) look to restore their power and exact a little revenge in the process, unleashing Greek mythological monsters on the city of brotherly love, including a tremendously powerful dragon. It's up to Billy and his family to devise a plan to thwart the ancient goddesses from destroying the city and the world.
"Shazam! Fury of the Gods" marks the 12th film in the DCEU (DC Extended Universe), and there are references to some of those other major players like Wonder Woman and Batman, but audiences can jump into this without watching the 11 previous movies. There's even a clever and funny little recap of the events from the first "Shazam!" that make it easy for newcomers to join. DC fans may be disappointed that the villainous Daughters of Atlas are completely original for this film and do not appear in the comics. This will be a busy year for DC as this is the first of four movies to be released in 2023 with "The Flash" on deck slated for a June release.
David F. Sandberg once again directs, having done an impressive job with "Shazam!" in 2019. He excels at identifying the humor that worked to great effect in the first film and repeated that formula in "Shazam! Fury of the Gods" without making it feel redundant or old, which is not an easy task. Coupled with fast-paced, hard hitting action scenes, Sandberg effectively guarantees the audience to have a good time with this sequel. He even includes some fun references to other films, like the Annabelle doll sitting in the background of a pediatrician's office (Sandberg also directed "Annabelle: Creation").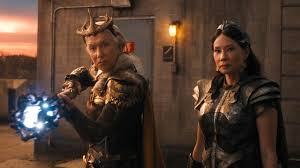 Sandberg's biggest mistake with this movie was actually instigated in the first film when he spread Shazam's power to six characters. Having six superheroes with seemingly identical powers is too much and there's simply not enough time in a movie to develop these characters and subplots. It quickly turns this film into a chaotic jumble as Sandberg halfheartedly opens subplots with some of these characters only to abandon them or have them fade into unimportance. He eventually rights the ship when he focuses the film on the most rewarding subplots with the more gifted actors, but he leaves the audience dizzy in the process.
While Zachary Levi leads the cast again and provides that charming, naive silliness audiences have come to adore and expect, he fails to recognize his character's teen alter ego has gotten a bit older. His dialogue and delivery still represent the mentality of a younger teen, creating a discord between the two versions of himself.
There were a couple of other notable performances that stand out from the others. Jack Dylan Grazer stole the scenes he was in as the sarcastic teen with a physical disability. His quick-witted and passionate performance immediately endear his character to the audience. Then there's the incomparable Helen Mirren whose elegance and razor sharp delivery command the screen, creating an imposing foe for the protagonists.
"Shazam! Fury of the Gods" is fun, entertaining, and self-aware with humorous humility, yet with plenty of flaws that keep it from achieving the success of its predecessor. The action/comedy made just over $30 million domestically for opening weekend, well short of the already humble expectations. This is further proof that superhero fatigue is real, and this film is not good enough to change that. If you do see this movie, be sure to stay for the two end-credit scenes that hint at DC's future plans as well as acknowledge fans of the fantastic HBO Max series, "Peacemaker."
This movie earns: