By Keith Walther | Rose Law Group Reporter
The man in black is back and more violent than ever, winning March's battle of sequels. "John Wick: Chapter 4" gives audiences exactly what they've come to expect over the course of this franchise, furious gun battles and a dizzying display of martial arts in exotic locales. However, this latest installment is more like a comic book movie than all previous films combined.
"Chapter 4" picks up right where "Parabellum" leaves off with John Wick (Keanu Reeves) seeking revenge against The High Table. The Marquis (Bill Skarsgård) is provided the limitless resources of The High Table to hunt and kill John Wick, as well as anyone who helps him. Even old friends of John's like Caine (Donnie Yen) are converted into adversaries.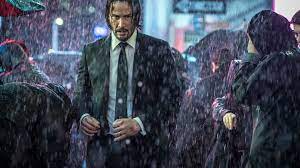 With his list of trustworthy friends dwindling, Wick finds a very slim opportunity to defeat The High Table and earn his freedom. From Osaka to Berlin to Paris, Wick battles his way through unending waves of deadly assassins, receiving guidance from his two most trusted remaining allies, Winston (Ian McShane) and the Bowery King (Laurence Fishburne), along the way. Death looms around every corner, making Wick's Hail Mary plan all the more unlikely.
Whatever criticism is levied on Keanu Reeves' acting ability, one thing is for sure, he's responsible for two of the most iconic action roles of this generation, the other being Neo from "The Matrix" of course. Yes, he doesn't have much dialogue in the movie and his performance is very one dimensional, but that's all that is needed for this type of action focused role. The key element Keanu brings to the table is genuine dedication, spending 12 weeks training in martial arts prior to filming in order to do a majority of the stunt scenes himself.
The supporting cast in "John Wick: Chapter 4" is massive, but there were some standout performances that deserve recognition. Bill Skarsgård provides one such performance, playing the egotistical and brutally ruthless antagonist. He once again builds a villainous character dripping with a loathsome personality that seems nearly impossible to defeat like he did as the memorable Pennywise in the two "It" movies. Bill will soon be taking on the lead role in "The Crow" remake that was made famous by the late Brandon Lee.
Veteran actor Donnie Yen has been providing exhilarating martial arts scenes in film and television for many years most notably in the "Ip Man" movie franchise. He once again dazzles the screen with his fighting prowess, this time as a blind assassin with conflicting motives, which comes across as very real. Another assassin with questionable motives is portrayed by Shamier Anderson, who terrifically fashions a quiet duplicitous type of character, only caring about his well-trained dog and a big payday, that the audience can't help but enjoy.
Let's not forget about Lance Reddick who tragically passed away at the age of 60 on March 17th. He was one of the hardest working actors out there, being a memorable part of over 100 different productions in TV and film. He will be missed.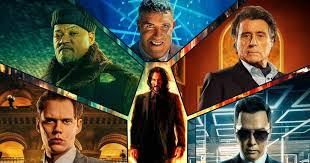 Director Chad Stahelski, who has helmed all of the John Wick movies, has had an interesting career trajectory starting out in the film industry as a stunt performer. His major break came in 1999, when he first worked with Keanu Reeves as his stunt double on "The Matrix," later becoming the martial arts stunt coordinator of those sequels. Now, he is responsible for one of the most successful action franchises of all time.
Stahelski really does an outstanding job of raising the bar with this sequel and keeping it fresh, interesting, and most of all entertaining for John Wick fans. From the opening scene of the movie, he puts the pedal to the medal and doesn't let up once during the almost three hour run time. He stays true to form, elevating the violence and body count, all while incorporating innovative cinematography and wonderfully choreographed martial arts fight scenes that leave the audience's mouth agape. This has become the trademark of these movies and Stahelski does not disappoint.
This film isn't without its flaws, however, that stem from the previous film, seriously detracting from the realism of the action scenes. The bullet proof suits, first introduced in "Parabellum," return and everyone seems to have them, making kills exceedingly difficult and the expenditure of ammunition problematic. The metallic-like ricochets add to the silliness and detract from the otherwise exciting fight sequences. In addition, John Wick is seemingly able to bounce off several high-speed vehicles or down hundreds of stone steps without any bodily harm. When massive gun battles erupt in a very public and populated city, there's absolutely no police response and common citizens seem to be going about their business oblivious to the chaotic violence all around them. In addition, the sheer number of assassins on call in every city is staggering and stretches the imagination.
Despite the obvious missteps, "John Wick: Chapter 4" is explosively entertaining and exciting from start to finish. Just be sure to check your sense of reality at the door and accept the fact that Wick is now more of a comic book superhero than an actual human. Stick around for the post credits scene, it opens the door for a possible spin-off.
This movie earns: