By Keith Walther | Rose Law Group Reporter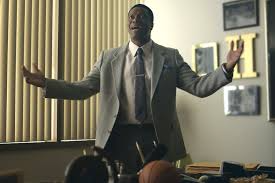 The unlikely standout of an incredibly talented cast that includes three Oscar winners is none other than Chris Tucker, who hasn't been in a film since 2016. "Air" is based on the riveting true story of how Nike signed the legendary Michael Jordan. The story is a very interesting one about taking big risks for big rewards that is conveyed in an entertaining way with witty, comically infused dialogue, masterful performances, and a heavy dose of 80's nostalgia.
The year is 1984, when Nike was only known for its running shoes and its basketball line was viewed as more of a punchline. That's right, Converse and Adidas were the kings of basketball sneakers, signing all the major NBA players from Magic Johnson to Larry Bird. Nike CEO Phil Knight (Ben Affleck) did have something those shoe companies didn't, basketball scout/consultant Sonny Vaccaro (Matt Damon). Sonny, with his incredible nose for talent, had identified a player with the potential to change the game forever…Michael Jordan.
Convinced that Jordan was the future, Sonny passionately convinces the outgoing CEO to pursue signing the young basketball phenom with every dollar of the already meager budget even though he had zero interest in signing with Nike. With Phil's blessing, Sonny understands the way to get Michael is through his powerfully influential mom, Delores (Viola Davis). He sets out on his mission, putting not only his job on the line, but also the jobs of his colleagues, Rob Strasser (Jason Bateman) and Howard White (Chris Tucker). Throwing caution to the wind and having a tenacious, willing to do anything attitude to secure the deal is what it will take to create the most profitable shoe line in history.
Ben Affleck has proven time and time again that he is a better director than he is an actor, see "Gone Baby Gone," "The Town," and "Argo." "Air" is the first film he's directed that is not a thriller, but it is certainly another to add to this impressive list.
Affleck orchestrates a fascinating telling of this true story that flows smoothly without any lulls. Ensuring entertainment for his audience was surely one of his goals, but he was also steadfast in his commitment to accuracy, conferring with Michael Jordan multiple times to get the story right. His dedication to realism extends to the filmmaking, degrading the picture quality in an early scene to achieve a more authentic video tape look apropos to 1984. Adding the style and background of the 80s alongside a pop culture montage with some of the hit songs of that year effectively transports the audience back in time.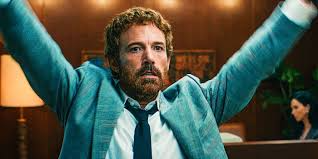 "Air" marks the 9th film Ben Affleck and Matt Damon have appeared in together, but the first time Damon has appeared in an Affleck helmed movie. Good friends since childhood, they won an Oscar together for writing the screenplay to 1997's best film, "Good Will Hunting." While they don't get a writing credit for "Air," rest assured that's only a technicality because they did significant rewrites to this screenplay. The dialogue is very well written, accentuating the actors' talents and importance. Damon himself gives such an authentic performance, making his acting seem natural and effortless. Don't be fooled, however, he did not gain weight for this role, he wore a fat suit.
Michael Jordan only had two requests for this film, to have Viola Davis play his mother and to have his longtime friend Howard White be included in the story. Oscar winner Viola Davis ("Fences") was a no-brainer for Affleck to cast, and she lives up to her reputation with her commanding presence, pulsating with that quiet power she harnesses to make the audience hang on every word, much like she did in "The Woman King" last year.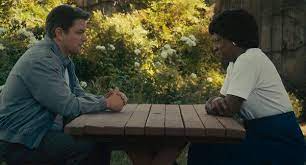 Even though Chris Tucker had been on a 7-year hiatus from acting, he jumped at the opportunity to play Howard White who is also a good friend of his. The outgoing star of the "Rush Hour" trilogy was once the highest paid actor in Hollywood, but he gave it up to pursue humanitarian interests. It appears the time off and experience has helped him grow as an actor, because this is the best performance of his career. He provides a dynamic, affable portrayal of a former basketball player forced to reinvent himself as a businessman for Nike due to injury. If Oscar nominations were to be announced today, he would be the front runner for Best Supporting Actor.
"Air" is a captivating movie from start to finish that also serves as a source of inspiration for anyone with an idea who has the drive to pursue it. It shows that if you believe deeply and passionately enough, and have the resilient courage to take risks, you can and will achieve success. This is the first and likely only must-see film of April, so go check it out.

This movie earns: