By Keith Walther | Rose Law Group Reporter
"John Wick: Chapter 4" has been dethroned by the fantasy/adventure film, "Dungeons and Dragons: Honor Among Thieves," which took in a haul of $38.5 million domestically in its opening weekend. The film carves out a special niche for itself in the fantasy genre as more of a comedically fun romp than its more serious counterparts of "Lord of the Rings" or "Game of Thrones." The story may be simple, but it is wonderfully entertaining.
Set in the magical world of Faerun where all manner of mythical races and monsters reside, comes a tale of a misfit band of thieves led by Edgin (Chris Pine). Edgin wasn't always a thief, however, only turning to criminal capers after the murder of his beloved wife. After breaking out of prison with his best friend and cellmate, Holga (Michelle Rodriguez), they embark on an ambitious quest to retrieve a powerful relic, putting them in the direct path of dangerous enemies.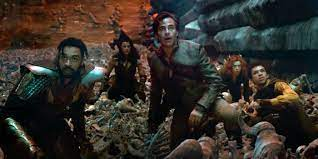 The two friends are joined by the bumbling wizard Simon (Justice Smith), the tiefling druid Doric (Sophia Lillis), and the valorous paladin Xenk (Regé-Jean Page). When Edgin learns his fellow thief Forge (Hugh Grant) has taken his daughter and corrupted her mind against her father, the quest takes on a personal urgency. The team of unlikely heroes must find a way to pool their talents to avoid certain doom at the hands of a dark sorceress and extremely well-fed dragon to rescue Kira (Chloe Coleman), obtain the relic, and subvert evil.
Fans of the New York Times bestselling book series, "The Forgotten Realms," will be happily rewarded with this film adaptation of that world. "Dungeons and Dragons: Honor Among Thieves" is written and directed by John Francis Daley and Jonathan Goldstein, who know how to entertain film audiences as evidenced by their previous project, "Game Night." This dynamic duo incorporates some Monty Python influence to generate some memorably funny scenes, like the graveyard corpse reanimation scene.
While there is plenty of laughter inducing moments throughout this film, like a chase scene involving an overweight dragon, the directors smartly avoid overdoing it and turning it into a spoof. If anything, they follow a similar formula established in "Thor: Ragnarok," arguably the best Marvel film made to date. They craft a compellingly serious backstory for the main character that provides much needed depth without ignoring the secondary characters. In addition to being committed to a wonderfully balanced approach, they incorporate surprisingly creative cinematography, particularly during the action sequences that keep the battle scenes energetic. The directors also don't succumb to the pressure of adding obligatory romance between the main characters. In fact, they comically poke fun at that as well as other conventional genre norms, creating a more self-aware movie.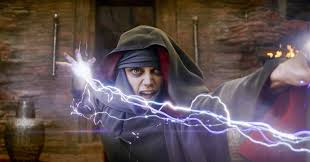 The acting certainly won't win any awards, but it wasn't bad. Chris Pine elevates his fellow cast members through an effortless performance with natural comedic timing. He may not have many serious moments in the film, but when they arise, his genuine portrayal is that much more impactful. The banter he has with his co-star, Michelle Rodriguez, also seems to flow easily, creating an important attachment between their characters. While Pine's character provides cunning and wit, the "Fast and Furious" star uses brute strength, complimenting their friendship nicely.
Other notable performances include Hugh Grant as the money hungry egomaniac and Regé-Jean Page as the hunky, self-righteous do-gooder. Yes, Page is the recognizable heartthrob star of the hit Netflix series "Bridgerton." Grant has had quite the resurgence to his career, even having a standout performance in a bad film like "Operation Fortune: Ruse de guerre." There's also a hilarious cameo from none other than Bradley Cooper.
"Dungeons and Dragons: Honor Among Thieves" is what going to the movies is all about, pure entertainment. It's not only a must see, it's one of those rare films that you don't want to see end and can be watched repeatedly without growing tired of it. You don't have to be a fan of fantasy to enjoy this movie, it's just a fun experience that will stick out as a positive memory.

This movie earns: