By Keith Walther | Rose Law Group Reporter
Disney is up to their old tricks, remaking an animated classic to live action without any creative effort in another shameless money grab. "The Little Mermaid" offers nothing of substantive difference from the original 1989 Oscar winner, other than being more diverse and inclusive. However, Melissa McCarthy supplies a performance to remember that keeps this dead weight afloat.
The story, the songs, even the dialogue, is almost exactly how you might remember with a few minor variations. Ariel (Halle Bailey), the daughter of King Triton (Javier Bardem), is a rebellious teen obsessed with humans and wanting to be a part of their world. She falls in love with Eric (Jonah Hauer-King), a human prince she rescues from drowning. Looking to escape her father's overprotective grip, she makes a deal with the evil sea witch Ursula (Melissa McCarthy).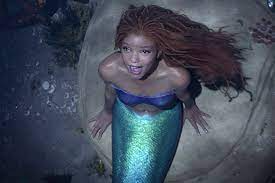 Ariel is turned into a human in exchange for her melodic voice, but she must experience true love's kiss within three days to retain her voice and keep her human form. Of course, Ursula doesn't play fair and will stop at nothing to ensure she isn't successful. With the help of her friends, Sebastian (Daveed Diggs), Flounder (Jacob Tremblay), and Scuttle (Awkwafina), Ariel seeks to achieve her dreams without allowing her father's kingdom to fall into the slimy tentacles of the sea witch.
Director Rob Marshall inexplicably and senselessly adds almost an hour of runtime to the original film. There are three new songs, the lyrics of which were written by Lin-Manuel Miranda. Sounds promising with a name like that, but two of the songs add nothing to the plot and fall flat. The third, called "Scuttlebutt," is an offense on the ears both lyrically and musically that is sure to annoy parents when their children with simple musical tastes ask to replay it repeatedly. Marshall then curiously omits the song "Les Poissons" from this remake, which represented one of the better and funniest scenes from the original with the French chef chasing Sebastian around the kitchen brandishing a cleaver.
Without any reimagination of the story, maybe Marshall incorporated incredible special effects to make it more of a visual spectacle. Unfortunately not, the CGI was incredibly poor and unrealistic, particularly on characters like Sebastian and Flounder. Even the cinematography was basic and unimaginative. The laziness extends to the choreography of the scenes, which play out almost identically to the animated version. Without much attempt at creativity, Marshall offers no legitimate reason for audiences to go to the theater rather than saving money and watching the original at home. Guillermo del Toro has shown the world how to remake a classic Disney animation into something special that surpasses the original like he did with "Pinocchio." It's time Disney elevates their standards.
This is the first starring role in a feature film for young actress Halle Bailey, and it proves to be too much for her to handle. There's no denying her vocal talents were up to the challenge of these big songs, but she overacted the role as if she was doing a stage production. It felt as if she was competing against the previous Ariel (voice by Jodi Benson), extending notes, adding more vibrato, etc., rather than making it her own. Her performance does improve as the movie progresses, but that's when her character is mute. Halle will next be starring in another remake of a classic, "The Color Purple." Let's hope she learns from this experience.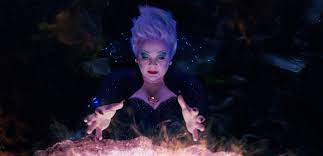 Melissa McCarthy steals the show and provides a performance worth seeing as the iconic squid-like sea witch. She embodies Ursula so flawlessly and adds her own amusing flavor to make the audience wish for more scenes of her. McCarthy didn't even realize she could sing before the production of this film but ended up doing all her own singing and doing it quite well. It begs the question, why not do the remake from the perspective of Ursula, like Disney did with "Maleficent?"
The tremendously talented Oscar winning actor Javier Bardem ("No Country for Old Men") provides a muted, unmoving, and unconvincing performance in this role. To say the animated King Triton had more emotion in his facial expressions and reactions would be an understatement. Even in scenes he's supposed to be furious, his line deliveries fall as flat as the lack of feeling in his eyes.
Stick with the original, "The Little Mermaid" is simply not worth the price of a ticket, let alone the extra hour of time. Enough is enough, it's time for Disney to stop producing these half-hearted conversions of their animated classics into live action films. Sadly, with too few options for parents, a number one box office opening for the holiday weekend will do nothing to dissuade Disney from doing more of the same.
This movie earns: