By Keith Walther | Rose Law Group Reporter
Another Gerard Butler action flick, another brainless dud. "Kandahar" is a paint by numbers action movie that offers nothing in the way of creativity or excitement. Featuring a weak story, poor character development, and uninspired acting performances, this is a movie that will have the most die-hard Butler fans groaning.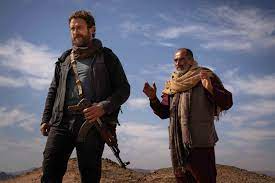 After successfully sabotaging an underground nuclear facility in Iran, CIA operative Tom Harris (Gerard Butler) must hustle to an Afghanistan military base with his interpreter Mohammad 'Mo' Doud (Navid Negahban). With his cover blown, this becomes no easy task for Tom, who must evade his pursuers across hundreds of miles of desert without any government assistance. A confusing medley of nasty groups like ISIS, the Iranian military, the Taliban, and a motorcycle driving Pakistani intelligence operative Kahil Nasir (Ali Fazal) all want the American trophy for themselves, killing each other in the process.
"Kandahar" is the second movie of the year for Gerard Butler, the previous being "Plane," and it somehow succeeded in being worse. Butler has become one of the laziest actors in the business, providing the same performance over and over no matter the role. The complete lack of effort is evidenced in this role as an American operative, as he doesn't even attempt to conceal his Scottish accent. He delivers his lines as if he's reading from a teleprompter, devoid of genuine emotion, which in turn make the action sequences lifeless.
Navid Negahban is an Iranian born actor with proven talent as he displayed in the Emmy Award-winning series, "Homeland." Unfortunately, the poor writing and directing negated his talent. Navid's character as an Afghan interpreter was utterly pointless. There were maybe one or two moments in film he was relied upon to interpret, and they were completely ineffectual. Most of the time he was depicted like an annoying child constantly complaining on a long road trip. A weak attempt at an emotional backstory did nothing to improve his character's relevance.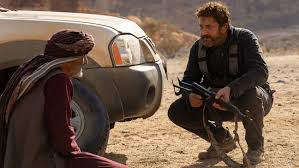 Most of the blame for "Kandahar" rests on the shoulders of director Ric Roman Waugh, who has helmed two previous Gerard Butler productions, "Greenland" and "Angel Has Fallen." Ric shows a lack of imagination, using a cookie cutter approach that makes the film entirely predictable and removes any hint of suspense. He amplifies the boredom by including unnecessary scenes that seemingly contradict each other and confuse the audience. Like depicting one of the Iranian military leaders as a kind-hearted empathetic family man in one scene, only to show him as a monster torturing a female journalist in the next.
Furthering the film's problems, the director stops the momentum of the action to incorporate obvious backstory ploys designed to harness viewers' emotional investment in the main characters. For instance, in the middle of a high-speed chase through the desert, the good guys get a flat tire that forces them to stop and change. Even though the antagonist was hot on their heels on a much faster moving motorcycle, he's nowhere to be found while the protagonist characters take their time changing the tire and having a heartfelt discussion about each other's personal lives. It was almost like time-out was called that the bad guys were kind enough to honor. All of this culminates in a climax that is ridiculous and devoid of reality that will have the audience shaking their heads and questioning their loyal fascination with Gerard Butler.
"Kandahar" is a soulless, sloppy, boring waste of time that has no business being in the theater. If you're looking for a more compelling story with entertainingly moving action that involves an Afghan interpreter, then check out "Guy Ritchie's The Covenant" instead, which was released earlier this year and is exceedingly better in every way.
This movie earns: