By Keith Walther | Rose Law Group Reporter
Movies featuring America's pastime have made an indelible mark on cinema with over a hundred titles throughout history. Unfortunately, "The Hill" is the worst baseball film since "Ed" in 1996, which featured Matt LeBlanc and a chimpanzee. Sloppy filmmaking and acting better suited for community theater turn a compelling true story into an overwhelmingly boring slog of a movie.
As a boy growing up in rural Texas during the 1960s, Rickey Hill (Jesse Berry) had a difficult life having to constantly wear leg braces to help him walk due to a degenerative spine disorder. If that wasn't challenge enough, he also lived with his impoverished family with his father, Pastor Hill (Dennis Quaid), earning barely enough to put food on the table as a traveling preacher. Despite the hardships, nothing could squash Rickey's love of baseball and dream of one day playing in the majors.
Against his father's wishes, Rickey started playing competitive baseball as soon as he was out of those leg braces. When he grew into a teenager (Colin Ford), he quickly became a top prospect in the state, known for his power with the bat. Unfortunately, constant injury, more surgeries, and an overprotective father threaten to prevent him from realizing his dream.
Director Jeff Celentano's filmography is comprised of only B quality movies, and his lack of ability to provide quality entertainment is on full display here. "The Hill" is a clear-cut example of what not to do for aspiring filmmakers. Jeff spends entirely too much time in the flashback of Rickey as a kid. While it's important to show his early life and the traumatic challenges he endured, it became unnecessarily repetitive, allowing for melodramatic boredom to take root in the film's core. By the time the main character grows up and the film begins to resemble the "Footloose" storyline, he has already lost the audience.
This is exacerbated by the clear avoidance of filming baseball scenes. Whether it was the lack of budget or camera equipment, the absence of quality baseball sequences leaves the audience wanting. The few baseball scenes that are in the film are of poor quality with a complete disregard for cinematography. This yields a very slow, plodding pace that lulls its viewers into a very anti-climactic climax. It's a two-hour film that feels more like four hours. To make matters worse, Jeff chooses to incorporate some very bad and obvious dubbing to remove some harsher language, likely to keep the film at a PG rating.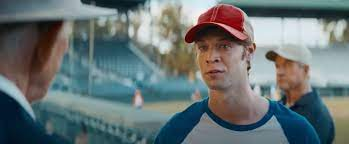 What keeps this movie from being one of the worst of the year is Jeff Celentano's commitment to the accuracy of this true story. He even made sure the real-life Rickey Hill was on set to provide input and ensure every important scene the audience watches are what really happened.
Dennis Quaid is the veteran actor who headlines this amateur level cast, and it's clear the director leaned on him, focusing on the father-son dynamic to give him extra screen time, thus confusing the story as to who this movie is really about. The problem is Quaid once again comically overacts his role as he's known to do, diminishing the dramatic impact of his scenes. Sadly, the overacting infects the rest of the cast, particularly Joelle Carter, who plays Quaid's wife. She provides the most laughable, cringe worthy scene in the entire film as she tries to channel her inner Katharine Hepburn to muster voice quivering drama. For the most part, the entire cast offered up unauthentic performances that fail to capture the audience's investment.
"The Hill" is a remarkable true story that should have been inspirational, and it deserves better treatment from a more capable director and a cast that can act. With a focus on melodrama, the movie should be sent down to the minors (aka the Lifetime network) rather than the big screen. If you do see this movie, consider it an achievement to make it to the end without falling asleep.
This movie earns: