By Patrick Clark | Bloomberg
If you're looking for an apartment to rent in Atlanta, you might be dismayed to learn that local rents surged 14 percent during the year that ended in February—at least, if you go by the online listing service Zumper. According to Zillow, the increase was 4 percent. Data provided to Bloomberg by CoStar put the increase at 7 percent.
That wild range helps explain why the rents you're seeing out there might differ from what you've been reading—or why you're not making money hand over fist on that Buckhead mid-rise you scooped up to lease out. It also presents a thorny problem for policymakers seeking to track prices at a time when rising rents are an acute social and political issue.
As the chart below shows, Atlanta isn't an isolated case. The three data sources tell consistently different stories about the pace of rent growth in cities across the U.S.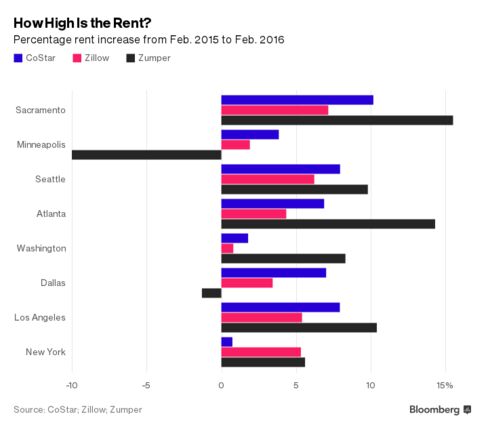 There are a lot of sources1 on the rise in rents across the country, and they don't measure the same thing. Zumper's numbers, which reflect rents for two-bedroom units, are based on more than a million active listings from its website, a big number that nonetheless represents a fraction of all rental units. Zillow and CoStar take listing data as a starting point and then use statistical models to fill in the gaps.
Related: Rental affordability crunch years in the making