By Keith Walther | Rose Law Group Reporter
The lead actor being fired, accusations of sexism, "spit gate," a major conflict between star and director, and an on-set romance leads "Don't Worry Darling" to the dumpster fire that it is. It is a psychological suspense thriller that forgets the suspense and thrills. The film pretends to be cutting edge and unique, but the story is a regurgitated idea that delivers its message in a blander way than its predecessors.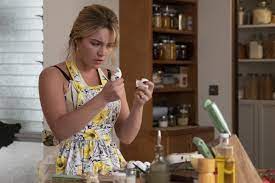 A 1950's style neighborhood with cookie cutter houses, straight out of "Leave it to Beaver," in the middle of a desert landscape is the setting of "Don't Worry Darling." This utopian crafted community dubbed the Victory Project features dutiful wives whose sole responsibility is to cook, clean, and provide the perfect home to their husbands, who go to work everyday just outside the town where the women are prohibited from going. Frank (Chris Pine) is the brilliant man who created this "perfect" society, revealing a character that would make David Koresh and Warren Jeffs proud.
Jack (Harry Styles) and Alice Chambers (Florence Pugh) are a young, very horny couple in this community and are at the center of the popular clique. Jack is a rising star at the Victory Project in some weird bunker at the edge of town doing a job he's not allowed to speak about, even to his wife. When strange events start occurring like eggs containing no yolk or one of the wives slitting her own throat, Alice begins to question Frank and his motives, leading to some uncomfortable dinner parties. The excitement doesn't end there as Alice continues her quest for answers despite everyone's dire warnings, leading to an excruciatingly predictable and absurd ending that will have audiences asking for their 2 hours back.
In her follow up to the critically acclaimed debut "Booksmart," Olivia Wilde would be wise to stick to acting for a while. Although, her acting wasn't much better than her directing in this film, portraying a pointless role as a shallow, gossiping wife with no depth. She unsuccessfully tried for big, shocking reveals throughout the film but telegraphed every one of those climactic moments, leading to an early flatline. While "Don't Worry Darling" will go down as a professional failure for Wilde, she did get a new relationship out of the deal with the male lead, Harry Styles.
Originally, Shia LaBeouf was to play the role of Jack but was fired amid allegations of sexual misconduct that arose prior to filming. This opened the door for Harry Styles' first major role in a film and hopefully his last. Simply put, he was a little boy in a big boy role. He overacted his part as a sniveling yes man with no backbone, and he had no on-screen chemistry with his co-stars. This won't keep the multitude of teenage girls from giggling in the theater every time they see him in a scene, so be prepared for that. The only surprising element to his performance was his ability to grow facial hair, although, that may have been just good makeup.
It was easy to see Florence Pugh was not very invested in her character. Whether due to the drama surrounding the Shia LaBeouf situation or the obvious animosity that developed between her and Olivia Wilde, Pugh wanted to escape this production as quickly as possible. She's a very capable actress, having delivered believable performances in "Black Widow," "Little Women," and "Midsommar." The only believable moment for her in this film, however, was when she wrapped her head in plastic wrap, the audience feels your pain Florence.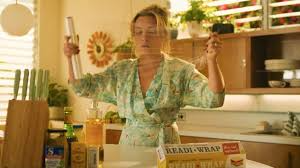 On the other hand, Chris Pine delivers an impactful performance despite being allegedly spit on by Harry Styles. Using eloquent speech and charisma, Pine creates a persona that makes him revered and feared by the other characters. His performance was oddly overshadowed by either poor hair/makeup or costume design, making his head appear abnormally larger than his body which was quite distracting.
There's little to be redeemed other than a stronger appreciation for a movie that represented this type of story better, "The Village." "Don't Worry Darling" is pointless with meaningless one-dimensional characters that only achieves in making its audience wish they had recognized the title of the film for what it truly is, a giant red flag.
This movie earns: